After two full days of inspiring talks and network buzz at PI LIVE Europe, it was time for the influencer marketing crowd to take over London, as many huge names from all corners of the creator economy gathered at Old Billingsgate to network, learn, and take their strategies to new heights for IMS Europe 2023.
The event brought together the key players in the creator economy, with three stages of curated content to enjoy and learn from and huge crowds filling the venue ready to soak it up. We saw over 1,300 delegates walking through the doors this year, the largest demographic being brands with over 500 attending.
Celebrating the success of this year's IMS Europe, Matthew Wood, Founder of Hello Partner, looks to next year's events, saying the team will be working on making it bigger and better in the future.
"During the rest of the year, I'll be working closely with [the team] and adding a further Event Manager to the team to supercharge the event - we already have a few ideas up our sleeves from the great conversations at the show."
The Influencer Marketing Show will be returning to New York in early June 2024. Until then, you can expect to see deeper dives into this year's session content, the hot topics from the event, and in-depth interviews with the biggest names in the coming weeks. For now, we've got some of the day's top highlights for you below.
Crafting Conversions: The Art of Creative and Affiliate Influencer Marketing
The Main Stage was packed for this session that brought together industry leaders to delve into the intricate balance of captivating audiences while achieving brand goals, especially in the realm of affiliate marketing.
Moderated by Rafe Oakes, Group Director, EMEA at Captiv8, this session brought together an impressive array of voices, as the Main Stage welcomed some of the influencer industry's biggest names, including Max Balegde, the TikTok sensation with 3.5 million followers, who shared insights into crafting creative strategies that not only entertain but also keep audiences highly engaged.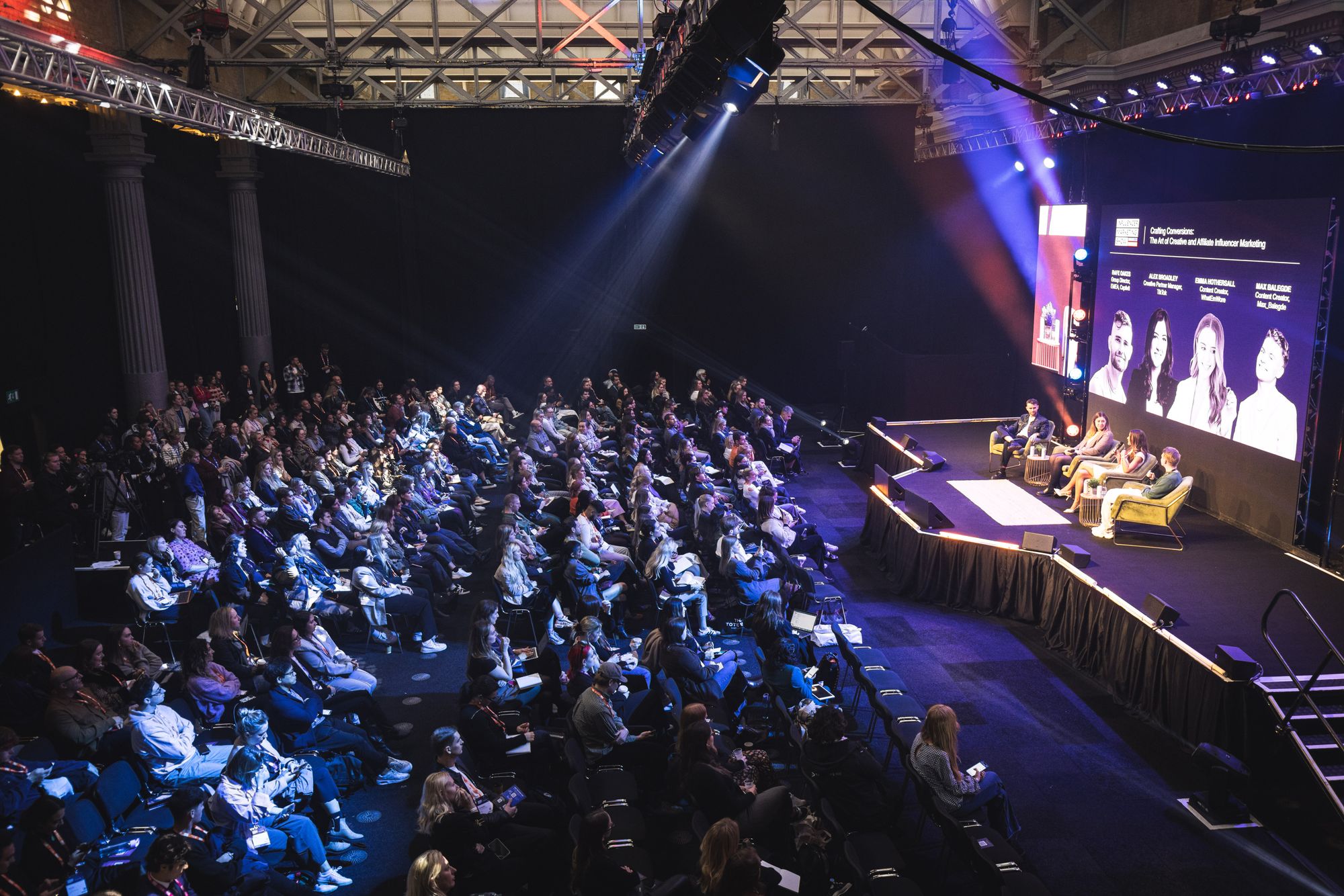 Whereas, WhatEmWore, an affiliate influencer powerhouse with 1.4 million Instagram followers, shed light on the full-funnel approach to social strategy. The session emphasised the importance of moving beyond surface-level engagement and nurturing leads through the entire customer journey.
Alex Broadley, representing TikTok, highlighted the platform's unique position where creative content seamlessly converges with effective conversion strategies. TikTok's role in bridging the gap between creativity and affiliate influence was a standout feature of the discussion, alongside Balegde's TikTok expertise as a creator.
The session served as an eye-opener for attendees, offering them a deeper understanding of the dynamic influencer marketing landscape. The panel conversations reinforced the need for both creativity and strategic thinking in influencer marketing, especially when it comes to driving affiliate influence.
Looking Beyond Authenticity: Finding The Right Brand For Your Niche
Over on the Influencity Well Stage, we learned how to find the right brand for your niche in a captivating session that delved into the intricate dynamics of influencer-brand relationships.
Hosted by yours truly, Hello Partner Journalist Jack Shute, the panel consisted of industry experts: Emma Critchley-Lloyd, Founder of BIG little LDN, Esme Rice, Worldwide Influencer Practice Lead at Mindshare, and Yalın Solmaz, Co-Founder of Multytude, who explored the challenges of finding the perfect brand fit within niche influencer communities.
The panel covered why influencers should use qualitative data to build their target consumer persona so that they can better sell themselves to brands. They also stressed, however, that data only gets you so far. As a creator, they shared how you shouldn't forget the passions that lead your success and not be afraid to follow your intuition.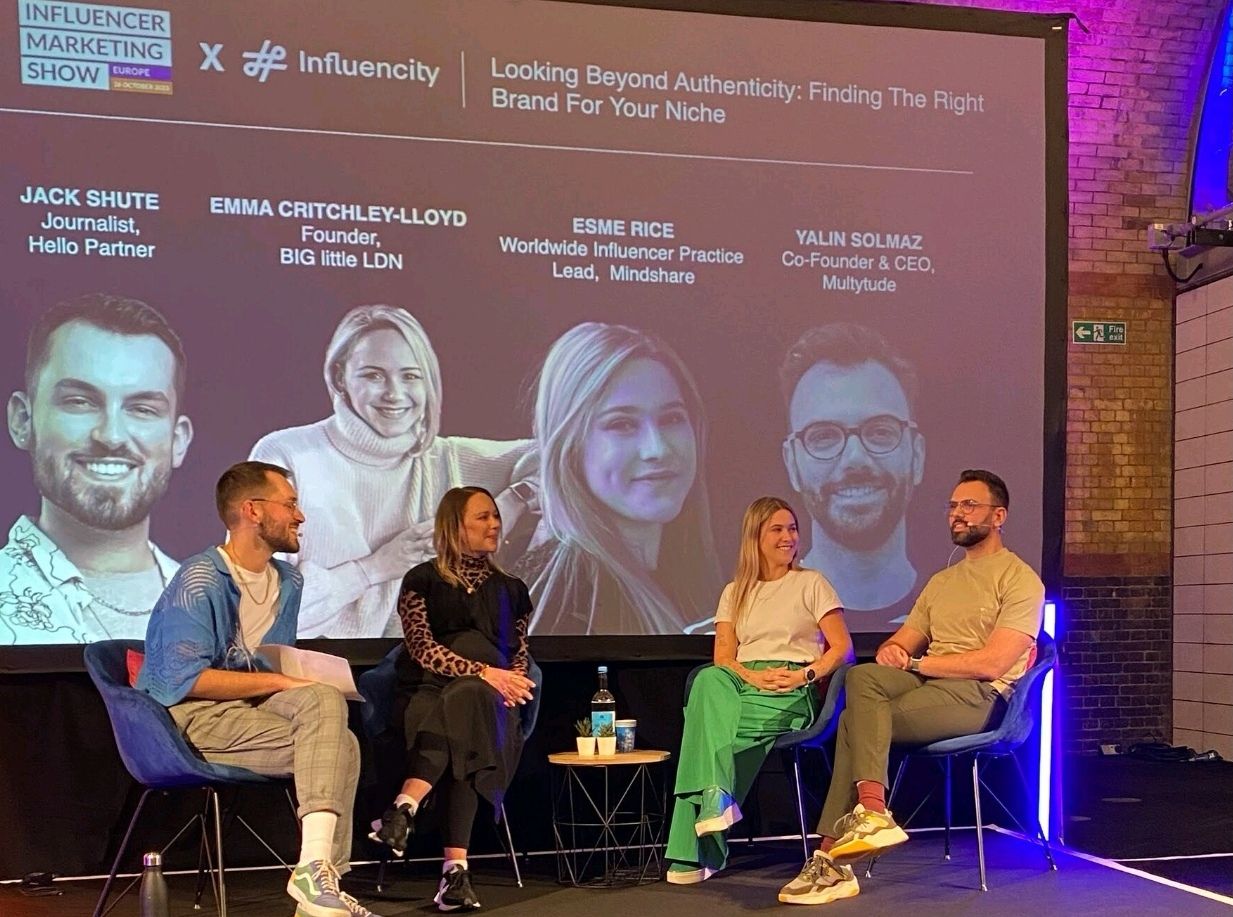 Solmaz reflected on the panel and the show as a whole once it came to an end, saying, "It felt like the theme of IMSEUR23 was all about measurement. The industry is maturing and it wants to get more ad dollars away from digital and into influencer marketing."
"It also shows that 99% of the focus is still on using influencers only as a marketing channel. Influencers represent massive knowledge and wisdom on the content and audience niches they represent, especially micro-influencers."
"There's immense untapped potential here for brands to be nimble, proactive, and on top of trends rather than chasing them," he continues, "So my prediction is that the theme of #IMSEUR24 will be all about leveraging influencers as brand consultants and consumer insight sources."
Beth Oddy, Director of UK Sales & Customer Success at TRIBE, took to LinkedIn to share her thoughts on the session: "What a day yesterday was!! IMS Europe 2023 did not disappoint!
I really enjoyed the 'Looking Beyond Authenticity' (...) It was interesting to hear a talk aimed at creators with insight into using communities and audiences in different ways."
The session provided invaluable insights for both creators and brands seeking to navigate the evolving influencer marketing landscape, offering a strategic roadmap for creators to connect with brands authentically and effectively, making a lasting impact in a market teeming with influencers.
Driving Authentic Representation in Influencer Campaigns NOW
Hosted by the Purple Goat Agency team alongside Hello Partner Journalists Jack Shute and Sol Wilkinson, this insightful discussion underscored the importance of authentic representation in influencer campaigns.
Taking over The Voicebox stage was Dom Hyams, Head of Strategy, and Josie Choy, Senior Strategist at the Purple Goat Agency, a trailblazing marketing agency known for pioneering inclusive and disability-led campaigns.
The sessions served as a wake-up call to the influencer marketing industry, reminding us of the imperative to be genuine, inclusive, and representative. Purple Goat Agency's pioneering work and the insights shared during this session are sure to inspire the industry to pursue authenticity and inclusivity with an unwavering commitment to the future.
Watch a clip from the session below. Full interview coming soon…