Medialab Group
Bringing A Much-Needed Dose of Autumnal Joy to Thousands of Families
For Autumn 2022, the National Trust sought to give support to some of those most negatively affected by the cost-of-living crisis – young families living in urban areas – by providing access to its properties, and helping this group de-stress in the outdoors.
Medialab Group worked with the Trust to open up one million free passes, and adopt a performance approach to maximise the impact of this offer. With clearly laid-out objectives, Medialab split the campaign into three parts. This included promoting the offer through radio, podcasts, and social channels, making use of wellbeing influencers in the process. Geo-targeted display and optimised social and PPC were deployed to guide families to download a free pass. Finally, the campaign encouraged shares through a Twitter trend takeover.

Medialab Group smashed its targets, achieving a 67% audience reach, over one million passes downloaded, 100,000s of incremental visitors driven to the Trust, and, most importantly, helped a huge number of families experience nature and enhance their wellbeing at the toughest of times.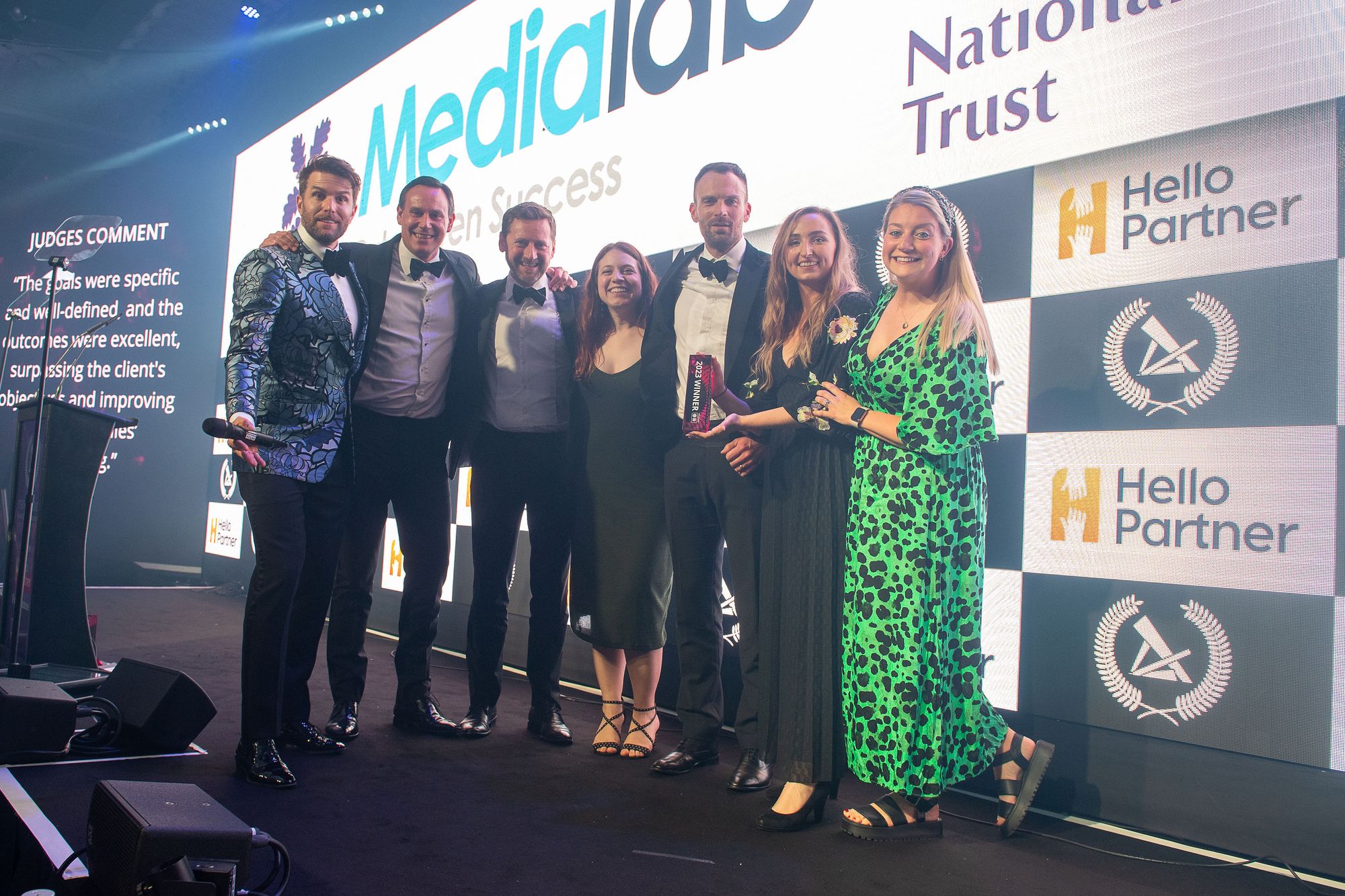 Judges Comments
"The goals were specific and well-defined, and the outcomes were excellent, surpassing the client's objectives and improving several families' wellbeing."
---
Deep Dive
Hello Partner: How does it feel to win this award, and what does it mean for you?
Lydia H., National Trust: It means a lot as a charity, up against a lot of tough competition. It felt really special as a charity to win it.
Will Davis, Medialab Group: It feels awesome, super pumped. A lot of great thinking went into the campaign, but it was also delivering something really good for the public at a really difficult time. We've worked together in a partnership for a long time so it's nice to get this accolade to back up a lot of hard work from a really good team.
Hello Partner: We thought it was an inspiring campaign. One of the most interesting aspects about it was the use of podcasts. How effective is the podcasting channel as a performance strategy?
Lydia H.: It was something we hadn't done much before so we were really excited to do it, even though it was a test. It was important for reaching a new audience, we wanted to make sure that people who came to the campaign hadn't come to us previously, or maybe had barriers to entry. This is where we saw the benefit.
Will Davis: Really high engagement if you get the right podcast, and hit the right audience – you get people who are really dialled in and listen. Also, it's quite cost effective. It was a really important of the campaign.
---
---
The Performance Marketing Awards 2023 was held in association with Blue Light Card