A decade ago, brands began leveraging social media influencers to reach consumers and build more authentic marketing programs as an alternative to paid ads. Today, we're seeing brands expand their circle of influence, reduce their dependencies on any one social platform like Facebook or YouTube, and experiment with emerging channels such as TikTok.
Just as brands are diversifying their marketing spend, they're also realising that there is more than one group or channel that has the ability to guide shoppers to purchase. Customers who write reviews, experts who recommend products, and affiliates who promote their favorite brands all have the ability to sway sales — just as traditional social media influencers do.
As brands seek to deepen customer relationships, brand communities represent their most powerful channel. Community-driven referrals have 3x the LTV of non-community driven referrals. By investing in their communities instead of just paid advertising, brands can nurture retention while driving sustainable, long-term, organic growth.
In a recent community intelligence marketing report, 70.4% of brands said they have an active community. Here's how the most successful brands are engaging their communities to build buzz, drive revenue, and turn casual customers into superfans.
The power of people over channels
Brand building used to happen on a few highly consolidated channels (magazines, TV, and billboards). Investing in channels — such as Instagram or display ads — is no longer enough. Especially with the recent Facebook boycott, brands are anxious to diversify their marketing spend.
The power now lies not with adding new channels, but by engaging directly with the people who form communities around brands and ultimately control the narrative on what's cool.
To power growth and drive advocacy, brands need to manage diverse communities that weigh in at every level. This means building products, serving experiences, and telling stories that are co-created with a brand's community.
Those communities aren't just limited to customers, either. There's more than one group of people who have the power to make a brand community successful. Here's a look at the broader audiences brands should fold into the communities:
Influencers who spread the word about a brand to their own communities
Creatives who generate photos and videos to showcase a brand in their best light
Customers who purchase, refer friends, and provide valuable product feedback
Ambassadors who embody the brand's message and recruit new members
Experts who provide critical validation that helps that brand differentiate itself
Affiliates who recommend the brand in blogs targeted to their audiences
Employees who keep a brand thriving from the inside out
When people with shared values unite behind a purpose, they can achieve greater things than a single person or brand could alone.
The transition from transactions to storytelling
2020 has forced marketers to contend with COVID-19, a civil rights movement, the Facebook boycott, and more. In the midst of everything going on, there are times when pushing a hard sell isn't the best move for a brand.
That's why it's imperative to connect with your community and ask what content is valuable for them. For example, when the pandemic emerged, flower delivery company Bouqs directly asked its fans what they wanted to see on their social feeds.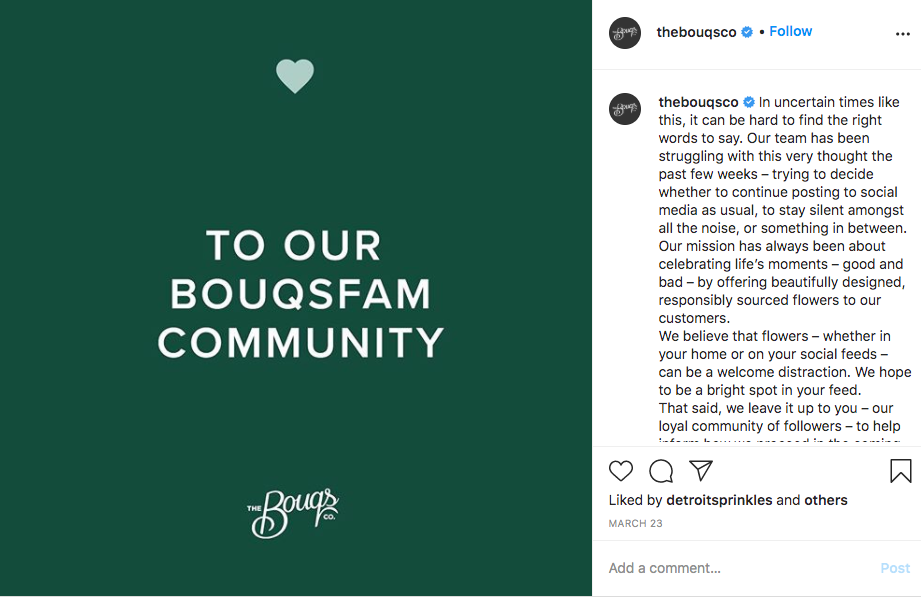 Likewise, fashion brand ASOS sent out an offer to couples who had to cancel their weddings, keeping brand affinity and appreciation strong during a difficult time.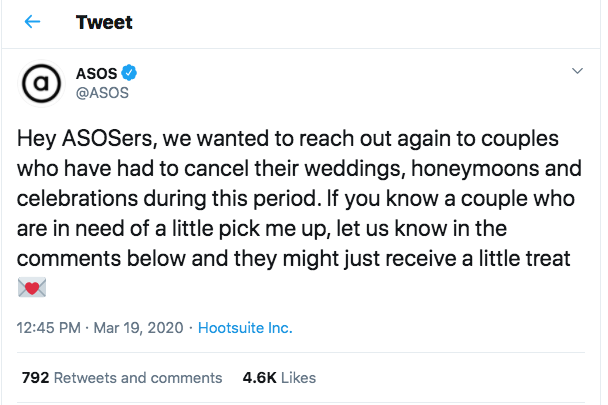 Jewellery brand Mejuri kept its product line but adjusted messaging to reflect a desire for simpler accessories during work-from-home days.
And finally, Airbnb shifted its experiences to be virtual, essentially creating a new service for homebound travellers itching to explore the world and meet new people.
All four brands did a wonderful job pivoting their messaging, and sometimes their products, to more effectively communicate with their audiences.
Looking ahead to back-to-school season, we've already noticed a change in messaging. Last year, most influencers' content revolved around outfits, backpack essentials, sales, dorm decor, and preparing children for the first day of school. This year, the common themes in influencers' back-to-school messaging are supplies for in-home classrooms, strategies for parents who are homeschooling, and safety tips for those returning to campus.
The takeaway here is that products shouldn't be the only thing in the spotlight. By understanding the real-world challenges your audience is facing, you can transition to storytelling, knowing that if you can provide value, sales will follow.
Authentic marketing today & tomorrow
Long gone are the days when a Don Draper-type executive can sit in a boardroom and create a brand message that resonates. A brand story isn't created for consumers. It's created with them. Today's consumers want to be involved in the process of developing a brand. So modern brands are changing the way they build products, serve experiences, and tell their stories by co-creating with their customers.
This trend is accelerating
Gen Z, which is estimated to soon become the largest US consumer population, has truly changed the consumer landscape. Gen Zers' compulsion to purchase is based on connection, ethical responsibility, authenticity, and an expression of self, making communities mandatory.
In fact, 76% of Gen Zers have bought a product to support issues the brand supports and 67% have either stopped buying a brand or would consider boycotting one if a company's values clashed with their own. As a generation that's grown up in the digital age, Gen Zers are not afraid to voice their love or distaste for brands both on and offline. They expect brands to engage in 1:1 conversations and create experiences tailored to their individual interests.
Gen Z's interactions with brands offer us a peek into the future. This generational shift extends beyond 20-somethings and will affect consumers regardless of age or socioeconomic status.
The consumer and brand relationship is evolving. By putting people at the heart of brand stories, focusing more on human-centered experiences, and inviting communities to participate with brands, brands can build communities that thrive — boosting brand love, driving sales, and fueling organic growth.