There's no question that when done effectively, influencer marketing can produce a major lift in brand awareness and revenue. Just look at these three statistics that showcase just how impactful influencer marketing is today:
70% of teens trust influencers more than traditional celebrities.
86% of women use social media for purchasing advice.
The influencer marketing industry surpassed print and is expected to hit $13.8bn in 2022.
There's no doubt influencer marketing is here to stay and only expected to grow. After the excitement of securing the perfect partnership subsides, the next big question on every marketer's mind is if their partnership is generating a return.
Why measuring influencer campaigns is tricky
Traditionally, influencer marketing campaign results have relied on two main measurements; promo codes and affiliate links to track resulting purchases:
Promo codes: A discount code created specifically for the influencer campaign.
Affiliate links: A specific URL that includes the influencer's name or ID.
Promo codes, while great purchase motivators are now heavily flawed measurements due to the ease at which they can be exploited. Think about the last time you made a purchase on the internet. Did you use a coupon-finder browser extension like Honey? Or maybe you scoured the web for promo codes? If so, you're guilty as charged (myself included) at mucking up a fellow marketer's campaign measurement.
Affiliate links benefit both the content creator and brand, usually offering a commission to the influencer and a way to track resulting purchases for the brand. However, it's not uncommon for social followers to bypass the affiliate link by googling the brand or revisiting the brand at a later date.
The reality is that promo codes and affiliate links are useful, but becoming outdated and flawed for measuring campaign success (but don't get me wrong, I love them for a good deal). Luckily, there's a better way to accurately determine the ROI of your influencer campaigns, attribution.
Social attribution: What is it and how does it work?
What is attribution?
In the context of marketing, attribution is the identification of those customer touchpoints that contributed to the desired outcome (often a purchase), and then the assignment of values to each of those events (often ROI). While attribution itself is not a new concept, applying it to marketing efforts done across social media – like influencer marketing – is. But thanks to new technologies, this is no longer the case.
How does attribution work for social campaigns?
Up until recently, there wasn't an easy way for marketers to identify individuals exposed to a social media campaign to then tie back conversion data. Social audience data by way of social audience insight technology platforms have enabled marketers to identify exposed social audiences and then map them back to Personal Identifiable Information (PII) for the first time.
This data includes a social user's name, hashed email, zip code, device ID, etc. It is this information that enables marketers to overlay the exposed audience with first or third-party sales data to understand the real ROI impact of specific influencer campaigns.
Here is a step-by-step guide to see how exactly attribution works for social campaigns.
To take this a step further and showcase how social attribution works in the real world, let's take a look at an example from the partnership between mega influencer Charli D'Amelio and Dunkin' Donuts.
Charli D and Dunkin' Donuts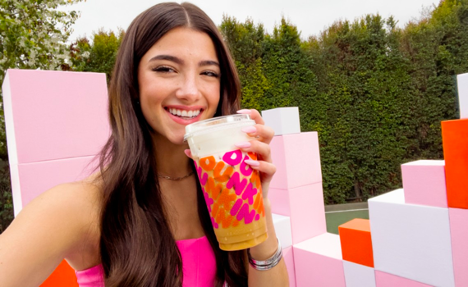 The Campaign: Charli D'Amelio is a famous TikTok influencer, largely popular with Gen Z. She has a staggering amount of followers – over 133 million. Looking to capitalise on her clout, Dunkin' Donuts teamed up with Charli for an influencer campaign with a specific goal to increase the use of their mobile app.
Charli took to her social channels, promoting her own signature Dunkin' Iced Coffee aptly named "The Charli", and encouraged her followers to order it through the Dunkin' App.
The Results: Prior to the campaign, Charli's fan base spent considerably less on Dunkin' Donuts than the average US consumer. But during the campaign, Charli's fans spent an incredible 44% more than the average US consumer, proving the campaign was wildly successful.
Attribution: The Future Of High-Impact Marketing Campaigns
Influencer marketing campaigns are only becoming more popular each year. But they're also
becoming very expensive. Making sure you fully understand the return and sales lift resulting from the partnership is critical to ensuring future budget and growth for your influencer marketing programme.