Creators have many innovations to enjoy in social networks, for example, the announcement of launching prepaid subscriptions in the near future. Moreover, the growth of sales and earnings from affiliate marketing brings even more pleasure. According to Admitad Affiliate, in 2021, the number of sales through Instagram in the UK grew by 182%, and the incomes of Instagram influencers brought by all these sales broke a record and increased fivefold. What goods did they promote to earn that much money?
Despite the fact that the growth of this social network audience has slowed down in recent years, the financial results don't stop growing. In 2021, Instagram surpassed the mark of 1.3 billion users worldwide. The solvent category of users aged between 25 and 34 years accounts for the largest share of Instagrammers — 31.2%. Another 31% of users are represented by young people of 18-24 years, who are only gaining their financial stability and activeness.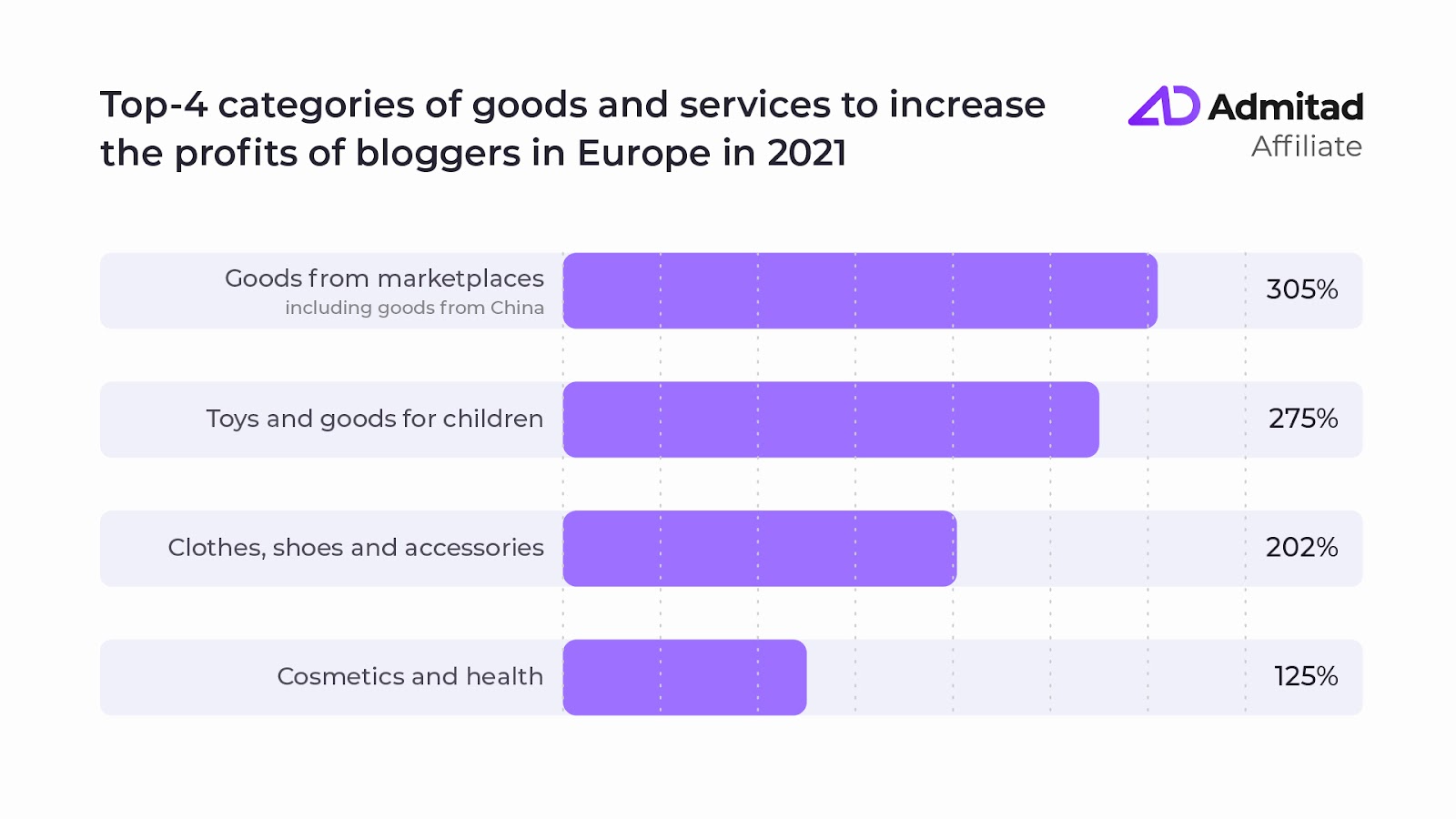 Is it really all about TikTok?
Instagram struggles to attract a young audience, which, according to recent research, now prefers using TikTok and Snapchat, with Instagram coming in third place among their favourite social networks. However, the level of users' capacity to pay and advanced monetisation tools help Instagram bloggers to increase their sales and income every year.
While TikTok provides bloggers with a limited range of ways to earn money, the Instagram team is doing their best to launch new tools. For instance, handy Shopping Tags, which allow you to drive users from your publication right to the product purchase page. Another one is the launch of paid subscriptions — users will be able to enjoy the unique content of their favourite blogger after paying a small fee of around one dollar. The subscription price for each region is listed in the App Store.
The affiliate earnings of the UK Instagram-bloggers are keeping up with the main trend and growing constantly. Brands have a vested interest in cooperating with such an effective source of new clients. According to Admitad Affiliate, in 2021, the number of orders driven by bloggers from Instagram grew by 182% and the value — by 178%. As for the personal income of affiliate influencers, it has increased fivefold. It's no wonder that in 2021 the number of content creators, ready to promote goods for a fixed reward for each purchase or for a certain percentage of the order value, has increased by 29%.
The number of users visiting websites of brands via affiliate links has also increased by five times. As you could guess, the most earnings of European affiliate bloggers come from the apparel and footwear industries.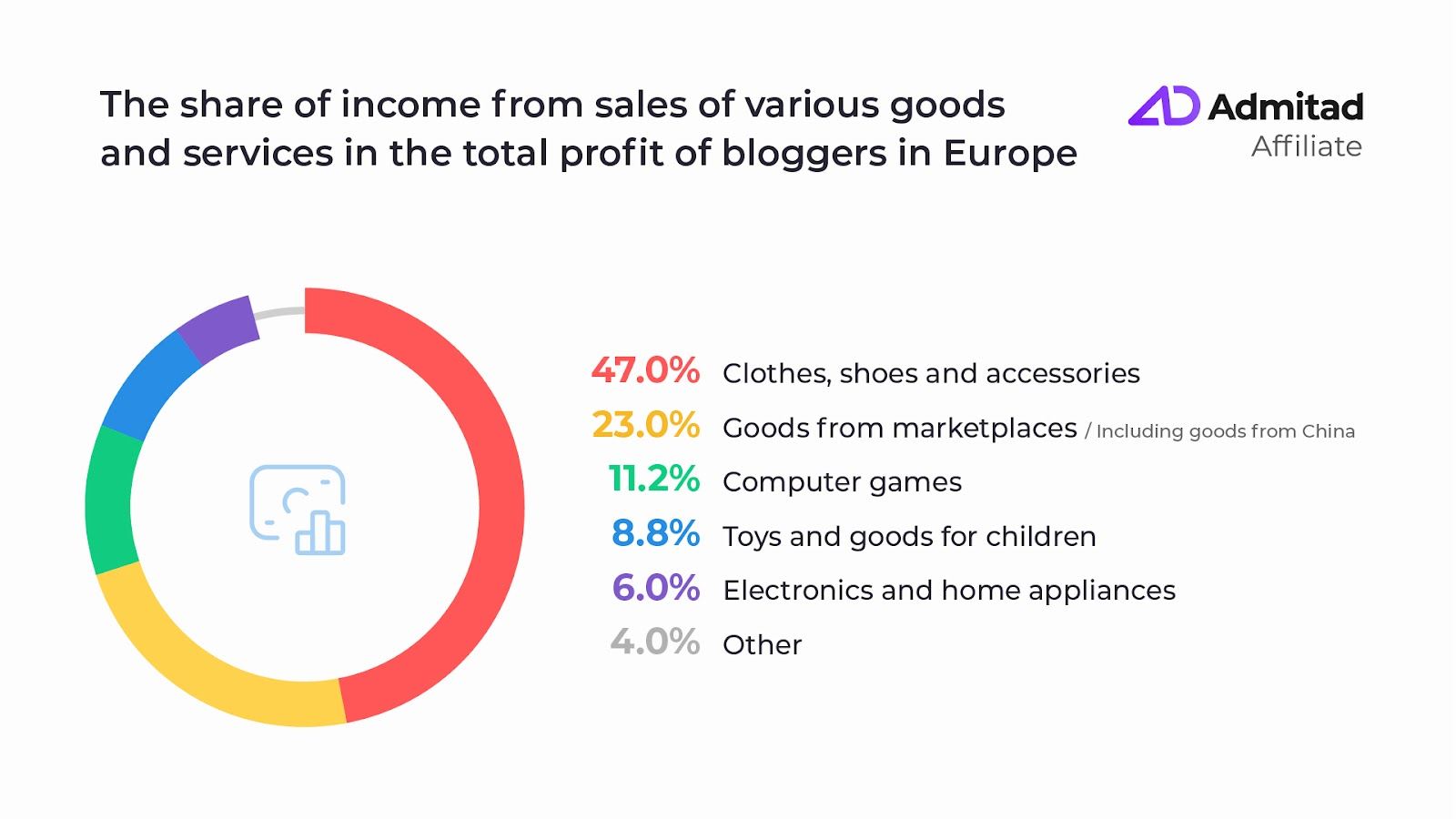 Bloggers increase their profits
Meanwhile, in 2021 bloggers managed to increase their profits significantly in several categories of goods and services. As it is seen from statistics by Admitad Affiliate, profits of European bloggers in these categories surged the most:
Probably in the near future, Instagram won't be increasing the number of users as fast as before, but they will devote themselves to providing their users with the maximum convenience and for bloggers — maximum profits. Therefore, it is crucial for influencers to research and use all the available tools, including the opportunity to work in affiliate marketing (earning a percentage of the value of follower's order), without focusing on direct advertising integrations only. It is also worth taking a closer look at the leading categories of goods and services on social networks and expanding the range of products that the content creators offer the audience.