It was recently reported that TikTok has overtaken Facebook as the most downloaded apps worldwide over the past year. The app has become a tool for many people that may have not been naturally paired with the active social media platform – those who are sharing business education.
Promoting small businesses and learning how to invest has gone hand in hand with sharing tricks of the trade with audiences on TikTok.  Business TikTokers are encouraging users and their audiences to make the most out of their finances and even how to start their own small businesses and side hustles.
The nature of TikTok content is very fast-paced and digitally advanced, and this ensures that the information given in these types of videos is very concise and to the point. This is most likely one of the reasons that types of creators have encouraged engagement.
From covering the basics of property investing to networking, these are some of the best business TikTokers you need to follow to teach yourself some lessons, without stepping foot in a classroom.
The job hunt is on
Finding a job or reevaluating your current situation is a commonality that most people share or have experienced in their life and as the way of working is changing, so is the world of networking to find jobs. TikTok has become a great arena for recruiters and consultants alike to delve into the world of job hunting and making sure that you get noticed for your dream role!
Wonsulting is a TikTok account where the creator uses his experiences to help his audience navigate LinkedIn for free. It seems that in an age where online applications are a starting point to find a job, they are the least effective strategy. As well as his own business, he uses TikTok as a place to help people land the job that they want, by teaching them how to connect with the right people on Linkedin.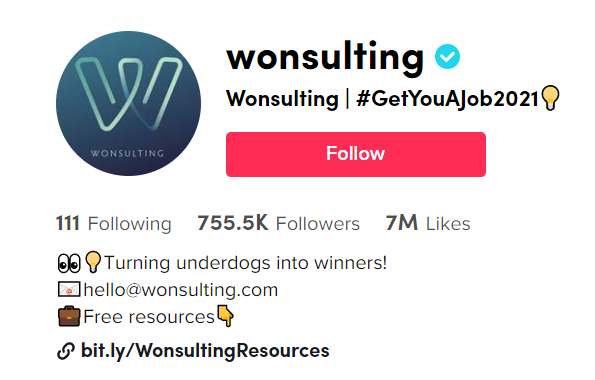 Jackie Caves is a former recruiter who is sharing her knowledge of the job market on TikTok. From interview tips, to how to format your resume, to how to start your job search, her followers have rapidly increased and is someone you need to follow if you want to up your job search game.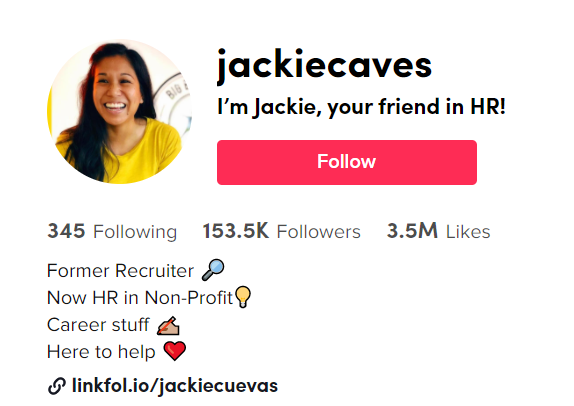 Workhap is an account that is designed for those who are in a career rut or just starting out on their career journey. Known as TikTok's career coach, this account will help structure your CV and tell you what career loopholes not to fall in.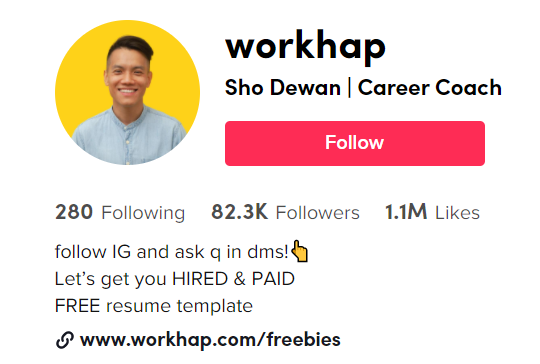 It's all about the hustle
When it comes to wanting to make a bit of extra money for yourself, taking on a side hustle or some extra shifts is a great go-to in order to bring in some extra income. The importance of creating different streams of revenue for yourself is something that has forefronted business TikTok. With choosing how to invest your energy into active income, and establishing some passive income for yourself, it is apparent that this is the way to give yourself financial security.
As with all side hustles and the whole "hustle" movement, it's important to stay mentally healthy, get enough rest and sleep. Work-life balance is an important aspect of a happy life.
TikTokers have used their platform as a place to share how to navigate your streams of income as well as how to get started if you haven't yet.
Lily May is a Virtual Assistant turned coach who uses her TikTok to share her tips on how to establish yourself as a Virtual Assistant. She shares her feedback and people who have benefitted from taking her advice. Requiring no previous experience and very little investment to get started to being able to dictate your own schedule, Lily May has got the attention of many.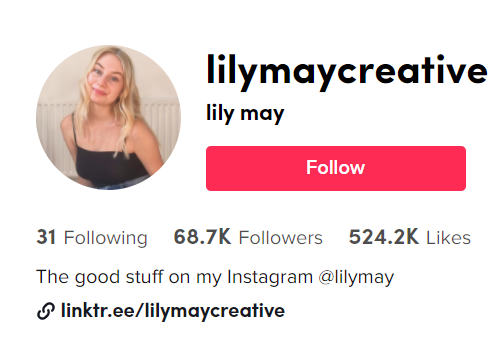 If you're not sure when it comes to side hustles what to do with yourself, give Matty Side Hustles a follow on TikTok. This account is home to ways of making extra money without even leaving your house. It is a great way to get your brain into thinking, in an imaginative way, on how to make something into a side hustle. From using your voice as a way to create voice-over content and being resourceful with your tech, to thrifting and establishing passive income streams, this page is a great one to follow.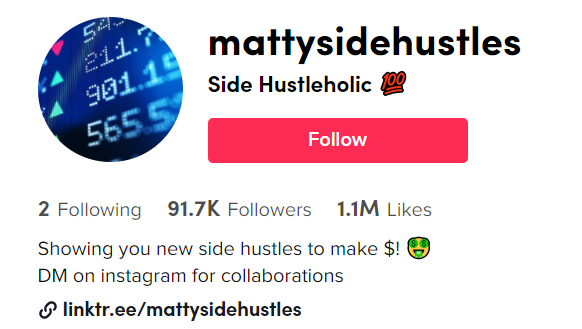 Yourrichbff does exactly what she promises to. She can help you get rich and earn some extra money. As an ex-Wall Street financier, she has inside tips and tricks to navigating your side hustles and even how to invest that extra dough.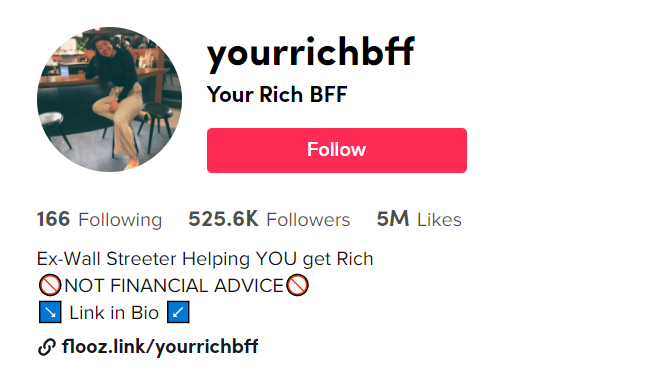 Invest like the best
Investing has now become the ultimate passive income stream. Although it is not completely risk-free, information about investing has now become so accessible that anyone can give it a go with any budget.
Investing can be in stocks and shares as well as real estate and of course yourself. Debunking investing myths and informing you from their own experiences, investors on TikTok can point you in the right direction when it comes to starting your investing journey.
Her first 100k doesn't beat around the bush when it comes to talking about money. This creator started investing young and wants to teach others to do the same. By sharing her tips on TikTok, she has also started a chart-topping podcast as well as establishing her own passive income streams for life. Being transparent about money and how to make the most out of your earnings is an ultimate prerogative for this TikToker. This businesswoman is a must-follow account if investing is in the cards for you.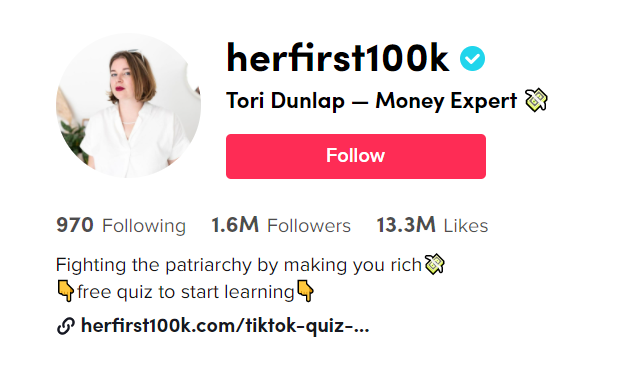 The Layman Investor is exactly what he says in the tin. An ordinary guy, on an extraordinary investing adventure. This TikToker shares his own investing experience online and is very much on the journey with his audience. He shares his book recommendations and must do steps to take when creating passive income streams for yourself. A must-follow for acquiring information in a fun way.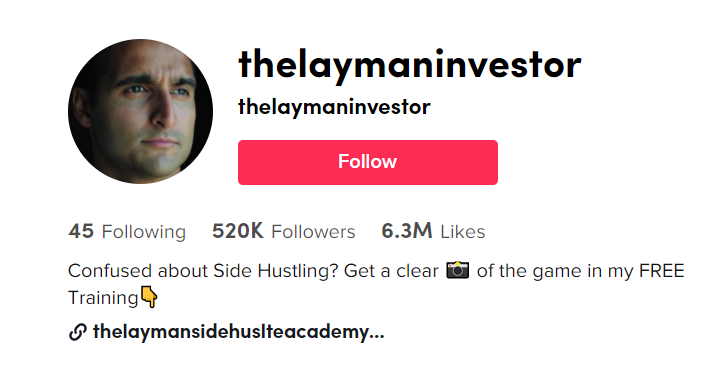 Faaresq will give you an insight into all things wealth and investing. Paired with his Youtube channel, he offers detailed ways to invest your money and how to get started if you've never done it before. Offering tips on investment niches, expanding your investment portfolio, and keeping track of your money will be a sure win after watching this page.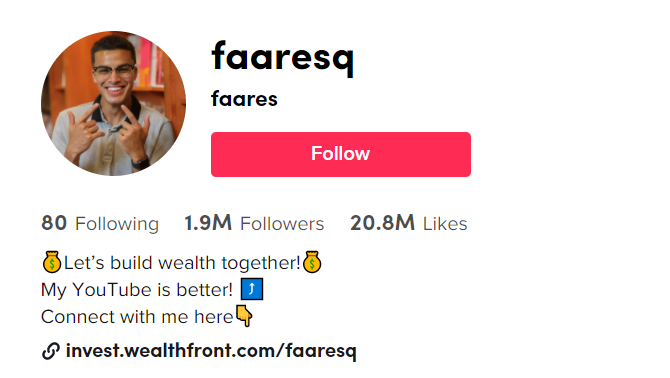 Mark Tilbury is your Tik Tok investing Dad. This TikTokker has invested, been there, done that, and bought the t-shirt. Sharing with his audience the dos and don't of investing, he shows his audience how to avoid what he learned first hand and how to ensure diversification of your investment portfolio. A great account for those starting out in investing.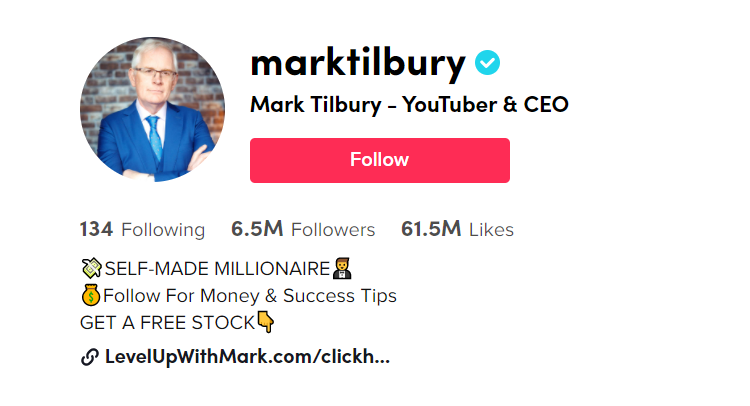 By following these business accounts, you can gain a breadth of insight into how you want to invest your time and money, in a way that suits you.