At first, you may wonder whether this term is related to the dark web – but it isn't. Going dark on social media describes something that is far less illegal, but maybe just as risky. Simply, this is the term used when a person or a brand wipes their whole social feed ahead of a major project launch to encourage their audiences to begin questioning what could be coming.
For those who simply just enjoy scrolling through their Instagram feed, keeping up with what their family, friends and the occasional celeb is doing, you may not even notice that brands are going dark on socials. But for those who are invested in a brand or a celebrity, it's moves like this that will engage them further, encouraging them to constantly check said brand's social media accounts, ensuring that they're the first to know when something exciting happens.
The Kardashian effect
Beauty mogul Kylie Jenner, founder of billion-dollar beauty brand, Kylie Cosmetics recently took the dark social approach ahead of an exciting launch of a new line of her signature lip kit, with more rebranded products to follow. All images from Kylie Cosmetics were wiped except for one that was captioned 'something is coming'. It's interesting to note that there isn't currently a way to delete multiple Instagram feed pictures at once, meaning Kylie's assistant had to delete each image individually – this strategy isn't something to jump into lightly.
With 25 million followers, the account 'going dark' certainly drummed up some attention. A simple Google search will show you how many people were questioning this move from Kylie and her team.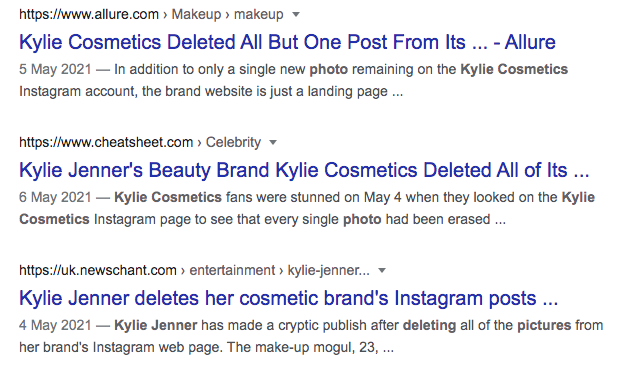 Influencers learn from the celebrities
Of course, we would expect this sort of reception from someone as famous as Kylie Jenner. The 'big reveal' image of the relaunch after the teaser received 1.5 million likes and more than 2000 excited comments.
Seemingly having learned from Kylie Jenner are British influencer duo, Sophia and Cinzia. The duo, who host 'The Girls Bathroom' podcast, and have previously released lines of merchandise under this brand, recently wiped its whole Instagram feed, leaving just one post – as did Kylie Jenner.
Eventually, the duo revealed that they would be releasing a card game, and again, similarly to Kylie, the duo's audience shared comments of excitement, emphasising the fact that the suspense made the announcement even more worthwhile. The announcement post received 32.4 thousand likes, which when compared to their more recent posts which average at around 5000 likes, certainly was an achievement.
So, does going dark on socials work?
Looking at the examples of Kylie Jenner as a major celebrity, and Sophia and Cinzia (The Girls Bathroom) who would be considered as mid-tier influencers, it seems that going dark on social media does in fact build suspense and gain the devoted attention of the audience.
So, if you're willing to take the risk and spend time deleting images from your beautifully curated Instagram feed, going dark ahead of a release could be a strong move that we will perhaps see many more celebrities and influencers jump on board with.