In case a reminder was necessary, the past year has been turbulent for many. Certain industries struggled, yet the influencer marketing industry was one that acted innovatively very quickly to ensure that business didn't just tick along, but was able to thrive.

The influencer marketing industry as a whole is continuously creative, reacting quickly to produce best-in-class work for causes, brand engagement, or pure entertainment. Despite the industry being one that has always succeeded through online communication, there were still adaptations that had to be made due to the pandemic to ensure that the campaigns delivered were aligned with the needs of the audience during a testing time.
The Influencer Marketing Awards winners presented authentic and successful understanding. Some of the key themes that were shared amongst the winning entries were the genuine approach to the human touch in campaigns, successful collaboration, and of course, innovation and adaptation in regards to quick and unique thinking during the pandemic.

Influencer Marketing Awards founder Matthew Wood said: "In a year where entries increased 50% YoY, the judges had a challenging time debating the winners due to the exceptional teamwork, planning, and execution of the submitted campaigns.
"We witnessed incredible pivots, creativity, and collaborations that merged the online and offline worlds, with diligent use of data to help meet and often exceed client KPIs.
There is no doubt the creator economy has evolved at a pace during the last 12 months of the pandemic.  With creators now often an always-on strategy for many brands who are continuing to stretch the boundaries of what's possible, and how campaigns can be successfully joined-up with other marketing channels."

Influencer Marketing Awards judge, Beckii Flint, Co-Founder of Pepper Studio added: "It's so important to recognise and celebrate the best that our industry has to offer. Especially in these times, where we have all been so distant from one another, it's a wonderful thing to stop and reflect on the positives that we have managed to achieve over the past year."
Fellow judge, Sedge Beswick, Founder and Managing Director at SEEN Connects said: "The standard of entry for this year's IMA's was superb – it is brilliant to see brands thinking more strategically, creatively, and of course, on ROI when it comes to influencer marketing. These awards are the perfect way to focus on/ highlight those leading the way in the influencer space."
Finally, Scott Guthrie, judge, and friend of Talking Influence said: "One way to help an industry professionalise is to celebrate success. The Influencer Marketing Awards showcase best practice and creativity from some of the most progressive agencies and in-house teams around the world. I'm proud to have served on the judging panel since the inception of these awards."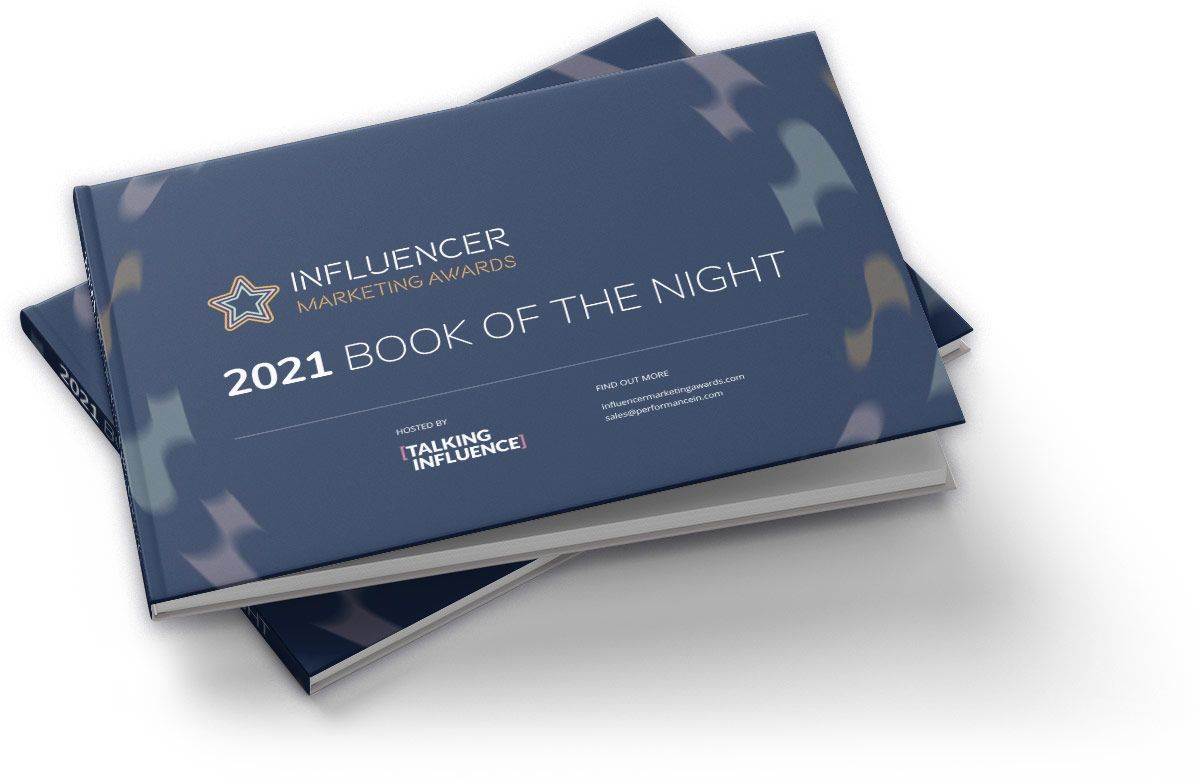 Taking home the gold
The Book of the Night details all the incredible entries and judges' comments that may inspire your future strategies and goals, and fully digest the awards winners and recap the outstanding work that they produced.
Amongst this years' winners was Ogilvy, who took home an astounding nine gold awards. Three of these awards were for Ogilvy UK's Hellmann's Animal Crossing campaign. The unique, cause-led innovation caught the eyes of our judges who noted that this campaign is one that will inspire influencer marketing campaigns in the future.

Team Ogilvy not only succeeded with its' UK-based campaigns. Amongst a wealth of international entries, Ogilvy Spain took gold in the Best Fashion & Style Campaign category in collaboration with Zalando with the Google Maps 'Street It All' campaign. This was a one-of-a-kind effort that attracted media attention across publications such as Glamour, GQ, Cosmo, and Vogue – Ogilvy really set the bar high this year.

Female founded agency, Digital Voices, also excelled this year, securing three gold awards. Two of the gold awards recognised the success of the Digital Voices X MADE.COM: MADEover campaign. In a year where short-form content was king, Digital Voices ensured that long-form content remained firmly on the map by working with MADE.COM to launch the brand's first-ever influencer campaign with YouTube creators at the heart.

Influencer Marketing Award sponsors, Buttermilk Agency, successfully achieved two gold awards, both for collaborative campaigns with Dior. Buttermilk worked with Dior on its' Brand Fans' and 'Love Your Skin Without Compromise' campaigns. Buttermilk showed its versatility to produce campaigns that don't just drive engagement but support and celebrate important causes successfully.
On behalf of the Influencer Marketing Awards and Talking Influence, a huge congratulations to all of the winners and those who made the shortlist. Thank you to our sponsors and to everyone that joined us. We look forward to welcoming you back in 2022, hopefully in person!