One year after news broke globally about the first cases of COVID-19, there's no doubt the pandemic has radically changed how we shop. This surge of enthusiasm for products and services that promote physical and mental health, from workout-ready leggings to clean skincare solutions, has fueled impressive growth for many brands. Prompting others to re-evaluate their marketing strategies.
With the wellness industry showing no signs of slowing down in 2021, let's take a look at the primary ways the movement has impacted the beauty and fashion space. Also looking at the steps that brands can take to capitalise on its continuing momentum.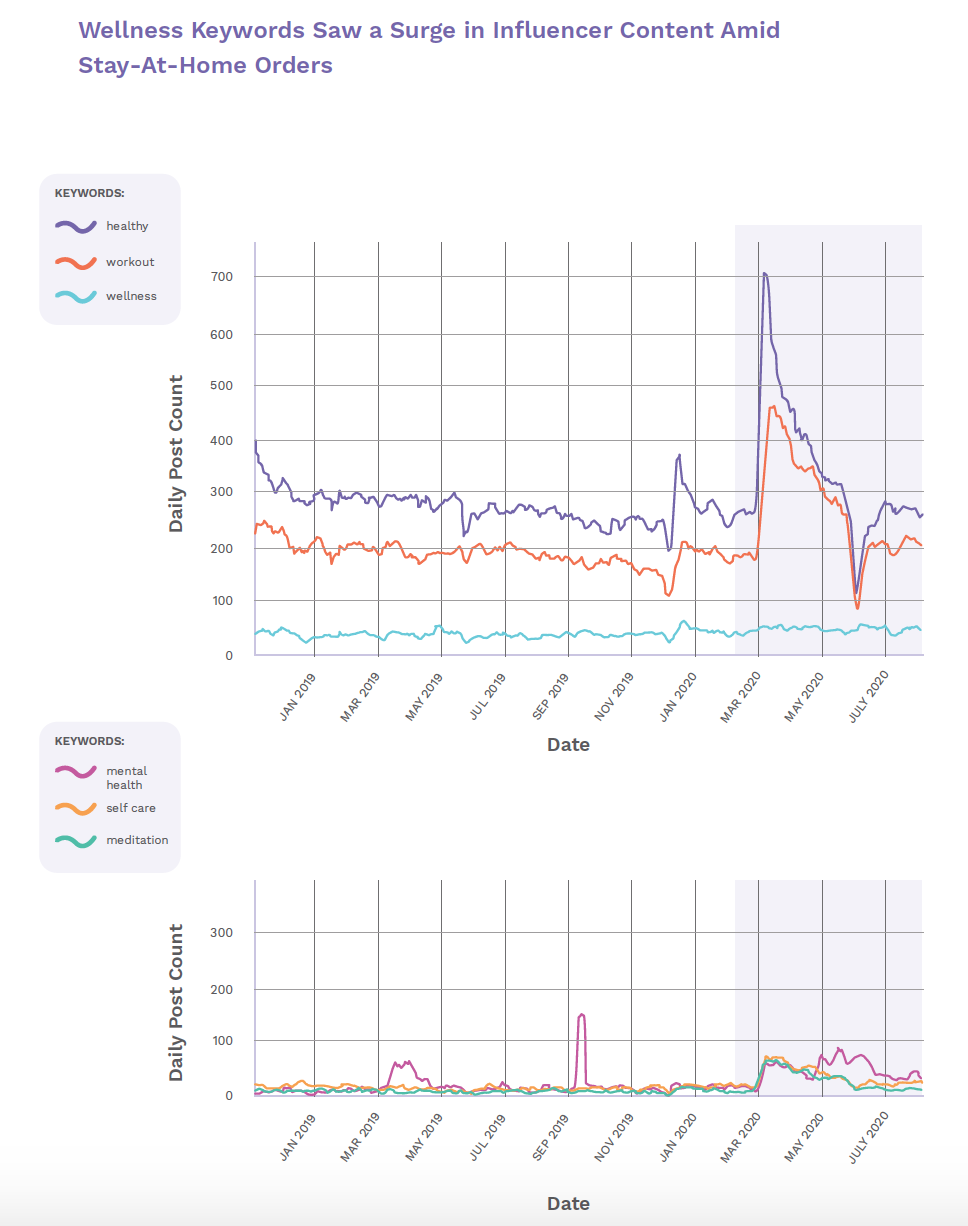 Skincare influencers embraced sustainability and science
Eco-conscious beauty influencers have been on a mission to discover and champion quality clean skincare brands for some time. The space saw a new wave of enthusiasm in 2020 as content creators and their audiences proved even more conscientious about using safe, effective, and sustainable ingredients.
Probiotic-powered skincare brand TULA, for example, enjoyed a 131% year-over-year increase in Earned Media Value (EMV)—Tribe Dynamics' proprietary metric for quantifying the estimated value of digital earned media—in 2020, while its influencer community expanded by 118% YoY. The brand tapped into content creators' heightened focus on mental health with its #EmbraceYourSkin campaign. The campaign invited fans to share makeup-free selfies in posts celebrating self-acceptance.
Good Molecules emerged as another winner on social media last year. The brand's clean, clinically formulated products found their way into the skincare routines of prominent influencers including Victoria Lyn (@victorialyn on Instagram), helping the brand surge ahead 383% YoY in EMV.
Body-care became an influencer priority
As influencers escaped 2020's countless stressors with soothing self-care rituals like long showers and bubble baths, the cleansers, and moisturisers that content creators used on their bodies proved just as important as those used for their complexions. As a result, holistic body-care brands like Nécessaire and Frank Body rapidly gained traction on social media. The two brands boasted respective 229% and 56% year-over-year EMV increases.
The growing conversation surrounding shower and bath products also caught the attention of mainstream beauty brands including Kylie Skin, which capitalized on the trend in October by launching the spa-inspired Rose Bath Collection. This was the brands' first-ever departure from facial skincare.
Clean makeup brands built cult followings
Mounting influencer concern about the impact of beauty products on both individual well-being and the environment doesn't stop at skincare. Cleanly formulated, sustainability-focused cosmetics brands Kosas and ILIA bucked widespread declines in makeup last year. This increased their EMV hauls by 176% and 201%, respectively, from 2019 to 2020.
Both brands embraced housebound influencers' shift away from full-glam to more minimal 'no-makeup-makeup'. Opting for looks with subtle complexion products that incorporate skin-friendly ingredients. For example, Kosas' popular Revealer Concealer Super Creamy + Brightening Concealer, a hybrid concealer, eye cream, and spot treatment, emerged as a favorite among beauty enthusiasts like Sarah Novio (@sarah_novio on Instagram). She looked to express herself through makeup while promoting skin health.
Activewear and athleisure labels levelled up their game
Gyms may have been closed, but lifestyle influencers were more active than ever during the pandemic. At-home workout challenges, tips, and inspiration swept social media. Activewear and athleisure brands tapped into many content creators' reinvigorated commitment to staying in shape through partnerships and initiatives.
Gymshark, which increased its EMV by 9% year-over-year in 2020, owed its momentum in large part to #HomeWorkout posts from brand-affiliated fitness bloggers including Whitney Simmons (@whitneyysimmons on Instagram). She mentioned Gymshark over 200 times last year.
Meanwhile, Fabletics achieved an impressive 142% YoY EMV surge, bolstered by its buzzy collaborations with celebrities like singer Kelly Rowland (@kellyrowland on Instagram) and dancer Maddie Ziegler (@maddieziegler).
Implementing strategies
Unlike other trends on social media, caring for oneself never ceases to be relevant. The deep investment in both physical and mental health that influencers demonstrated in 2020 will continue impacting beauty and fashion brands' performance through 2021. In order to best take advantage of the recent groundswell of enthusiasm for wellness products, beauty and fashion brands in or adjacent to this fast-growing industry can implement the following strategies:
Stand by your values. On the heels of a year marked by political unrest, content creators are increasingly rallying around brands that not only champion a socially responsible mission but genuinely practice what they preach. Transparency and consistency are particularly important in the wellness space. Influencers often feel personally connected to the brands and products they trust to promote their well-being.

When launching a new offering or initiative, make sure every aspect of your process, from initial development to marketing materials, reflects your brand's core values.
Embrace influencers' evolving interests. The wellness industry is highly dynamic, and yesterday's hottest skincare or fitness trend might feel obsolete today. Rather than resisting change, brands can sustain momentum by adapting to their fans' shifting preferences. Using innovative products and campaigns that reflect the tone of the current conversation. Collaborating with content creators is a reliable way to ensure that your offerings and initiatives are aligned with influencers' immediate priorities.
Identify and empower your biggest fans. Because many wellness products are integrated into influencers' self-care routines and self-improvement efforts, content creators tend to be passionately invested in the success of their favorite brands. Keep track of your most enthusiastic advocates and elevate their voices by reposting their content, tapping them for a campaign, or even partnering with them on a new product or collection.