Last week (June 15-19), the team behind
MAD//FEST
hosted its invite-only summer shindig that was 99//Club Digital Festival. Across five days, 96 leading marketers shared their big, bold ideas on creating a better marketing industry in just 99 seconds.
Taking to the virtual stage first was the topic of influencer marketing and social media.
Various industry experts discussed their ideas on how brands and platforms can create effective strategies that will resonate with people in a much-changed world during the two hours the festival was live.
It all kicked off in the virtual pub before presenters and hosts Dan Brain, co-founder and content director, Justin Pearse, editor of New Digital Age, and Ian Houghton, co-founder and commercial director of MAD//FEST welcomed the worldwide attendees that tuned in online. With strict time constraints, each speaker had to ensure they met the allocated time slot to avoid the sound of the horn. Each session ended with a quick Q&A as audiences could pose questions throughout. Here are some highlights from the afternoon.
Creators in the time of coronavirus
Takumi's Group CEO
Mary Keane-Dawson presented her incredibly creative poem titled 'Creators in the Time of Coronavirus' during her session that explained why TikTok isn't just for Gen Z and is not going anywhere. Read the poem in
full here
.
With the onset of coronavirus having caused many social media and influencer platforms to ask big questions about authenticity, trust, and effectiveness, social media usage soared since lockdown as people search for entertainment, human interaction and the latest news, which is where TikTok can come in.
Keane-Dawson later outlined, with everything happening around BLM and Pride and a lot of anger towards our political leaders, as an industry, it is remiss of us to not talk about this stuff and relate it back to our businesses, stating we have the power to address these issues.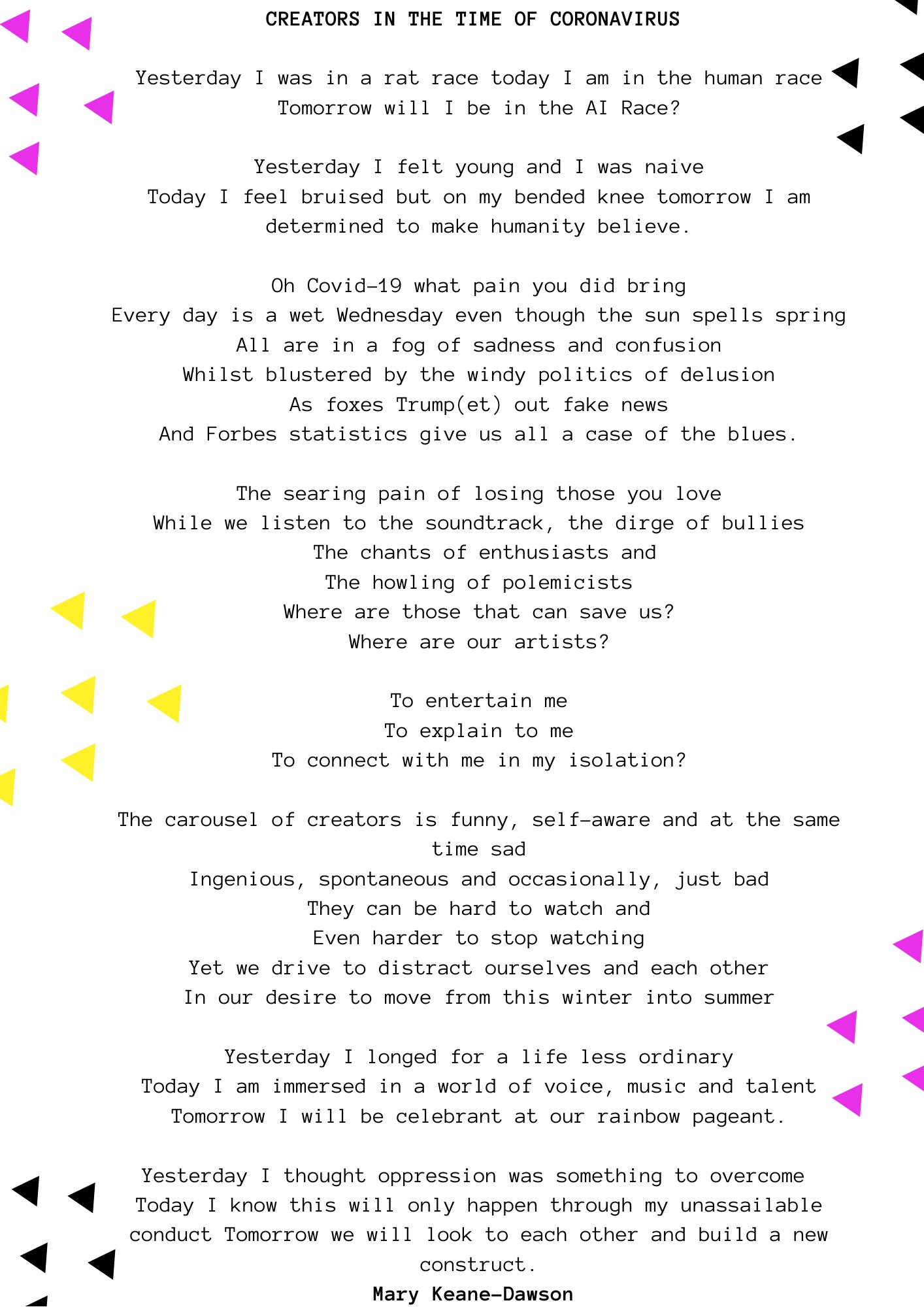 Creative consumers are our future
Up next, Jim Meadows, founder and strategy director of Commit, delivered his 'Creative Consumers Are Our Future' session. He made the point that most brands understand advocacy, which is important but with rising numbers of people consuming and engaging in user-generated content, brands can no longer ignore the numbers. Influencers are the most talented people and are our creative future so it is time to invest.
FFS brands! Chat less, spend a heck more, do the bloody data
Katy Howell, CEO of Immediate Media, didn't hold back during her 99 seconds.
Her advice was we need to learn from proven marketing techniques like reach, recall, action and purchase and spend big.
She advised starting by singing with quality content that informs, inspires, educates and delivers quality execution. Work with smaller influencers and make sure they are more organic influencers. By not being incentivised by the brand by being paid, they are tuning into brands' DNA.
She also highlighted the importance of using data rather than gut insights, which most marketers tend to prefer. Social data is the stuff that tells you what is trending so be a better brand and where your audience plays and invests.
Social & influencers in an age of VUCA (Volatility, Uncertainty, Complexity and Ambiguity)
Ollie Richardson, head of social at PHD, outlined that "We are at the mercy of the platform's algorithms." We have all seen social commerce has helped businesses pivot and create new revenue streams. Workout studios are now hosting home gym sessions, and restaurants are getting their chefs cooking from home. Yes, things are uncertain and will continue to be, but his advice was to stay true to your brand values as now is the time to learn and diversify.
How to win customers and influence people (without using social media)
Matthew Goldhill, founder and CEO of Picnic posed the question: why do we never see influencer content outside of social media? He believes it should be served in a premium editorial context.
He outlined brands shouldn't limit their influencer content to just socials just because it might be easier to put it on your Facebook account. He advised you put it in the context of premium editorial that won't be shown alongside user-generated content. What's more, is when paying for editorial content, the advertiser's money goes to publishers and cuts out the networks.
But how do we amplify it? Goldhill's advice was to produce content and then make sure it is seen by getting it in front of new audiences as content is powerful. The editorial content provides the context, which you don't get on the likes of Facebook, he explained.
Bringing a different type of creative into the creative industry
Karl Newman, MD of Publicis Media, kicked off by stating that it is time to accelerate change in our industry, stating there is an opportunity in our industry to mimic and build on what the likes of The Fifth Agency and NEWS UK are doing and use tech to reach new audiences by finding creative influencers and inviting them into our world fully as valuable client partners.
But how can we change from the ground up in an agency?
"Change cultural codes. Curate those conversations. Bring influencers in as actual creative talent and use tech and tools to identify influencers and reach out to them as creators. Give them a brief and work properly with them. Tap into their creativity in the right way. Find new creative talent who are creating for themselves daily as they have tools to do it and we have access to do it," he commented.
Are your best influencers closer to home than you think?
Last but not least, MADE.COM's head of brand advocacy Lauren Spearman said that influencers have the ability to change behavior. When she thinks of influencers, she thinks of tastemakers and storytellers who have creative ability and expertise. An influencer is someone who can share your brand message in an authentic way, she highlighted.
Her bets are your best influencers are closer to home and could, in fact, be your employees. Could you amplify these voices like the beauty industry, for example, which is well versed in employee advocacy? Equally, if looking at B2B, spheres of influencers could be your readers. So, are you utilising employee content? Are you extrinsically or intrinsically motivating them? If senior stakeholders don't trust staff to be those influencers, her advice was to just start doing it and prove them wrong.
That's a wrap! The insightful afternoon came to a close with
Mexican Mule cocktail making with MADE.COM's Lauren Spearman.
Other speakers included Sarah Baumann, MD at VaynerMedia; Hannah Monds, EMEA MD at Tagger Media; Tony Britton, co-founder and CMO of Miappi; Olly Rzysko, CMO of Mahabis; Emma Martell, head of social content at Avanti (formerly Virgin Trains); Chris Kenna, CEO and founder of Brandadvance; Tony Miller, CMO of Weight Watchers; Ed Couchman, UK GM at Snap, and Alex Lazare, founder of The Pass.