Like most retailers, iconic denim brand Levi's has had to shut its physical shops due to the global pandemic. To reach its shoppers in a new way, grow its digital business, and expand its social commerce efforts, Levi's partnered with TikTok for its "Shop Now" program. Though its still early stages, Levi's has just revealed the success its seen as a result of the trial.
Levi's was among the first brands to trial TikTok's "Shop Now" program, which allows consumers to purchase products via links posted on TikTok when it launched in beta in November last year.
To increase traffic to its e-commerce site, Levi's partnered with TikTok influencers Callen Schaub, Cosette Rinab, Gabby Morrison and Everett Williams for its Haus Miami activation, where they used Levi's laser-powered Future Finish 3-D denim customization technology to create their own customised denim. TikTok users could then watch the videos and click to purchase the same design on Levi's website.
It says since its launch in December, product views have more than doubled for every product included in the digital experience. Levi's reports that the watch time of these videos was twice as long as the platform average for TikTok.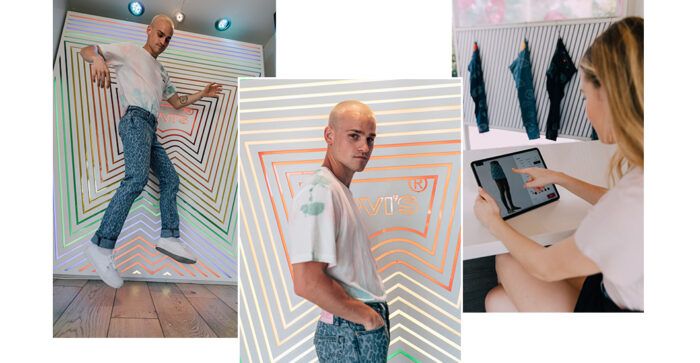 "As consumer behavior shifts over the coming months and people explore different online channels for shopping and engaging with brands, we are here to connect with consumers, wherever they are," said Brady Stewart, managing director, US direct to consumer.
Levi's has worked with other platforms such as Instagram, Pinterest, and Snap but was drawn to TikTok due to its ever-growing audience, which is estimated as high as 800 million. Levi's also said that out of those active monthly users, almost 60% is between the ages of 16 to 24.
"TikTok was the perfect platform for us to expand our efforts in social commerce. Over the last decade, we've been on a journey to not only grow our digital footprint but also help our fans buy our products at the point of inspiration, when they see something they love," continued Stewart.
As the pandemic forces retailers to attract consumers in different ways and better utilise social media for online shopping, TikTok and other platforms will continue to become an important place for e-commerce and connection. Levi's activation looks promising during these troubling times.