As social media platforms grow, people look for ways to connect with friends, become an influencer or advertise. But with this growth, accounts pile up and it can be hard to declutter your follower and following lists.
People are constantly using Instagram and creating accounts and engaging with others. In fact, there are about one billion monthly users and t
hose numbers can add up quickly in your accounts.
Brands have also found many advantages to increase engagement and revenue. With Instagram, influence-based marketing has become a popular partnership. For influencers and professionals, Instagram has changed the game for
industries like photography
and
marketing
.
With all the versatile uses of Instagram, you may be wondering how to clean up your followers and following. The new Instagram update helps out with the predicament.
Cleaning up followers and following
Instagram's update introduced a couple of tabs within the "Following" section of your account. Here you will see the two options: "Least Interacted With" and "Most Shown in Feed." These can help you decide who to unfollow.
Personal and business accounts have to purge and detach from accounts they're following sometimes. This helps clear up the feed and remove any unnecessary noise.
Unfollowing accounts and removing followers are both good due to the number of accounts that can disrupt engagement with audiences.
For instance, spam accounts tend to follow many people. They won't engage with your content and only take up space. Inactive accounts, too, are unnecessary.
These accounts may show up in the "Least Interacted With" section. Once you find them, you can unfollow them. If you're looking to delete them from following you, you can explore your followers list and delete the ones that are inactive or spam.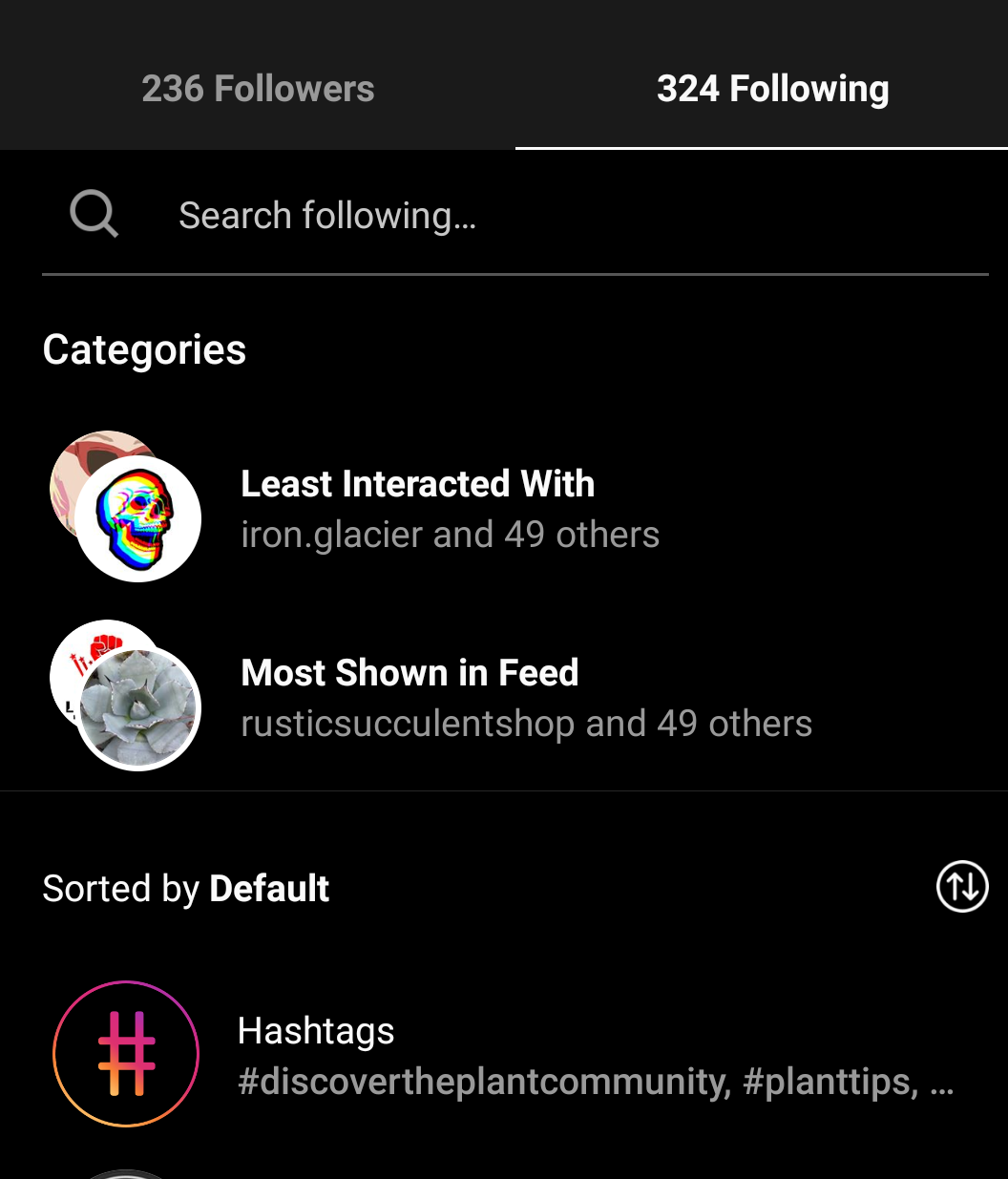 You simply hit the "remove" option and they will no longer be following you.
Keep in mind that sometimes the "Most Shown in Feed" and "Least Interacted With" could possibly overlap. Instagram's algorithms change frequently, so you never know which accounts will pop up.
You may also wish to find people who have just unfollowed you. You can scroll through your lists and figure it out manually. But there are easier ways to
find out who isn't following you
as well.
With these tools and new updates, you can create a more enjoyable experience for your brand.
Why it matters
Cleaning up can be a mental relief but for personal or business use, unfollowing and removing followers matters.
The first is that engagement can lead to better interactions with your followers and those who you follow. By cleaning up those two lists, you can see more content and accounts that algorithms were previously buying.
The second is also engagement related, but slightly different. Your engagement percentage is the ratio of how many followers you have compared to your amount of likes and comments per post. This can influence who follows you and who works with you.
Refreshing those follower lists can improve this percentage. By removing the accounts that only serve to clutter, you can engage more with the accounts you follow and your followers can then engage more with you.
So, don't underestimate the
importance of Instagram
engagement.
Next steps for Instagram
Instagram is always updating – one being the removal of the "likes" feature.
Some believe it will cause the number of likes to decrease, and therefore engagement as well. Others believe it will improve mental health and diminish dependency on the app and its pressure.
Another future update you may see is ads on IGTV videos. This would allow creators to place ads before their content plays. IGTV videos are still getting started and aren't as popular as YouTube or TikTok, so it has some competition.
While these don't directly affect followers, both updates could affect engagement and engagement is what comes from follower interactions. By cleaning up your followers and following, you may be prepared for when these updates come into play.
You may see more engaging content as well as stay on top of the algorithms and invisible likes. But either way, you'll have a clean, efficient feed to engage your followers.