Instagram is testing new ways for creators to earn money from the video content they post on IGTV. Reverse engineering whizz Jane Manchum Wong
Tweeted
that Instagram is testing a partner program that would let creators monetize their content by running short adverts on their IGTV videos.
Alexandru Voica, EMEA tech comms manager at Facebook, later confirmed the test in a
Tweet
, saying they don't have details to share now but they will as the concept develops further.
According to Wong's screenshots of the Instagram Partner Program, users would be able to "earn money by running short ads on your IGTV videos." You would also have to agree to follow the Partner Program Monetisation Policies. Although it isn't yet clear as to how the policies will be enforced, it wouldn't be surprising if they are similar to Facebook's
partner monetisation policies
.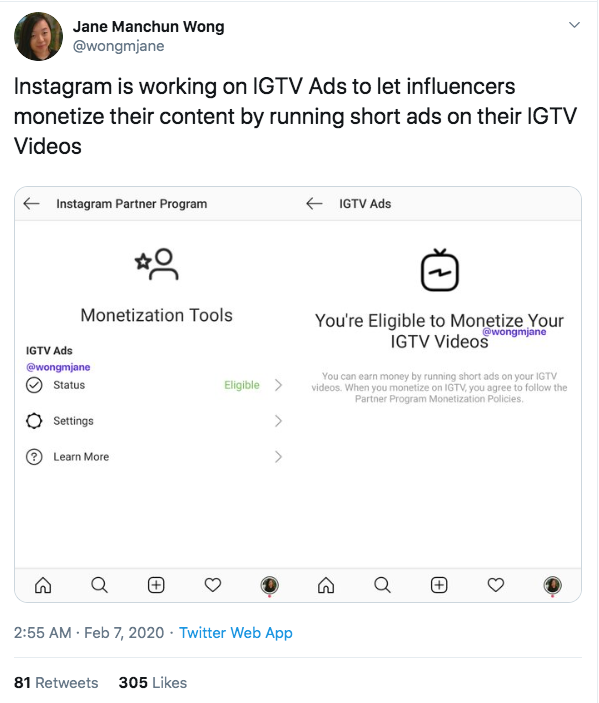 Monetizing the platform
Similarly to Facebook Watch, where video producers earn 55% of ad revenue generated, Instagram would most likely split ad revenue with creators using IGTV, making the platform much more lucrative. This would be the first monetizable platform on Instagram as creators currently earn money from sponsorship deals with third-party brands. Instagram CEO Adam Mosseri commented on the feature, saying they hadn't started monetizing it sooner because they wanted to focus on making sure "the product had legs" in the first place.
Although there are over one billion monthly users on Instagram, since its launch in June 2018, IGTV uptake hasn't been as impressive as the social network had hoped. Many creators prefer to direct Instagram followers to their own YouTube channel instead of creating content for IGTV possibly due to the lack of monetization available. It also has to compete with long- and short-form video content on YouTube, Twitch, TikTok and Instagram Stories. Most recently, the IGTV button was removed from the Instagram screen because the standalone app was rarely downloaded. That said, Instagram has been trying to attract creators towards IGTV with the likes of hiding likes of posts, IGTV content getting more exposure on the explore page and monetization through Brand Collabs Manager. By looking at more ways to make it "sustainable" for creators, the move could bring more high-quality content to the platform.
With so many other avenues for users to view video content and ways for creators to earn money on other social platforms, only time will tell whether or not Instagram's latest feature could change the platform for the better.