Hello Partner's time in the Big Apple has come to an end as we wave goodbye to the extraordinary last two days of the Influencer Marketing Show. It's been short but sweet, and over 400 attendees are walking away with big smiles, bright minds, and bags filled with goodies and new connections.
Day two started on a high after the previous night's fabulous 'Mingle at the Monarch' Official Party left attendees feeling electrified and ready for a new day. After soaking in the drinks and the New York City skyline, attendees experienced another day of networking, elevated content, and many more meetings as crowds flocked to the impact.com and Influencity stages, as well as the Aspire Green Room.
With a global array of world-class speakers and industry experts from brands including Meta, Airbnb, L'Oréal, Mattel, and TikTok, as well as agency partners such as impact.com and Influencity, the day's sessions covered the most relevant and hottest topics from across the creator economy and influencer marketing space.
Keep your eyes peeled over the Hello Partner website in the next few weeks, as we'll be bringing you deeper dives into some of the session learnings, and chatting with the show's expert speakers so that you don't miss out on any of the juicy content from IMS NYC.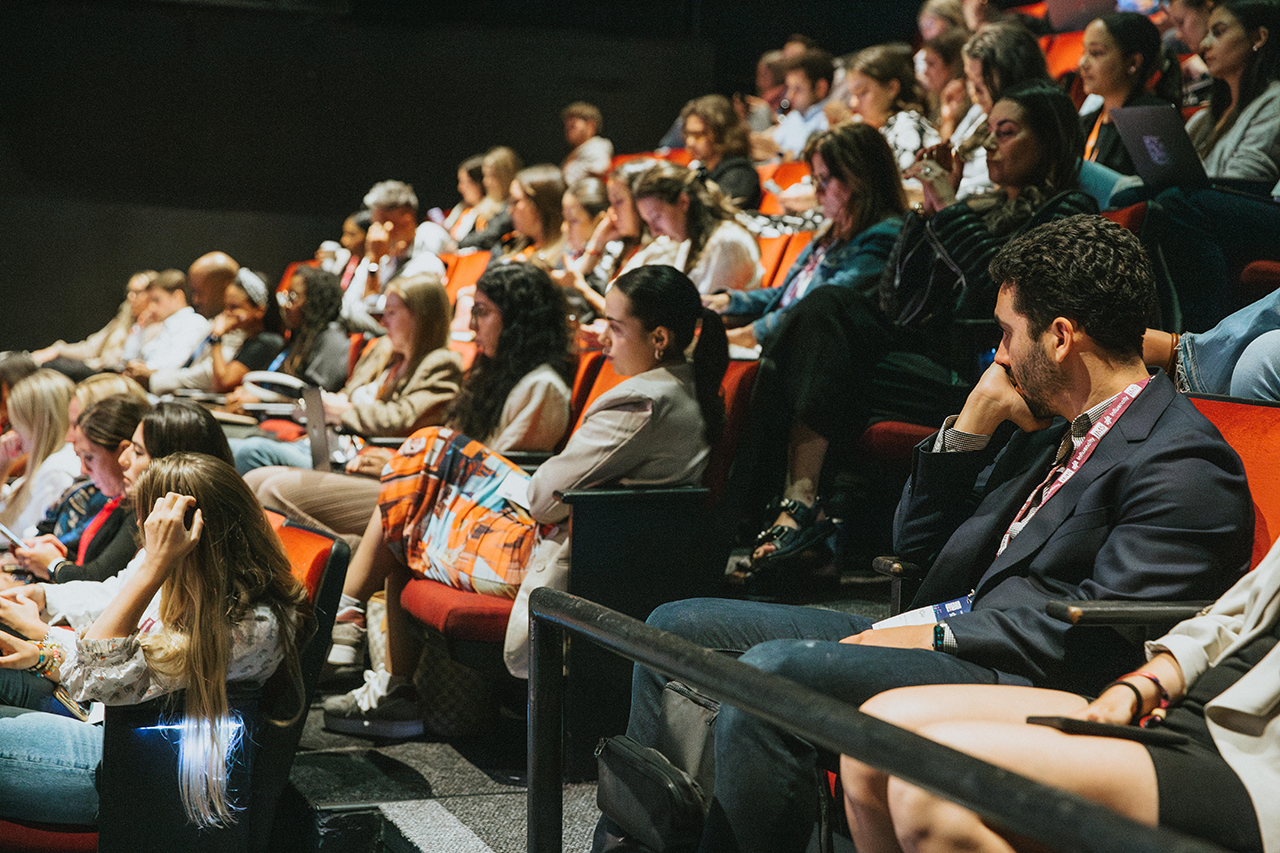 Session standouts from Day Two
Lauren Ludlow, Founder of Ludlow Social, chaired the impact.com Stage during day two of the event, whereas Jenny Heinrich, CEO and Founder of Jenny Heinrich LLC, oversaw the Influencity Stage. Both stages were oozing with creative excellence as speakers shared their exclusive insights with the crowds throughout the day.
Creator First: Unlocking the Power of Authentic Storytelling to Drive Impact and ROI
Joining Jenny Heinrich on the Influencity Stage was both Lyle Stevens, CEO of Mavrck, and Rachael Ryan, Global Research and Insights Manager at TikTok, as they discussed how to best adopt a "Creator First" strategy on all of your channels, especially on TikTok, and the results brands can drive with that mindset.
Explaining what it means to be "Creator First", Stevens explained how this approach can help brands build authentic relationships with creators to drive impact and ROI, whereas Ryan provided attendees with details on building a "TikTok First" strategy alongside creators to drive commerce success.
Kristin Wheeler, Marketing Manager at Undertone, said she enjoyed the discourse "about authenticity and hiring influencers for their persona over follower count." Attendees left the session with a new mindset on creator partnerships and TikTok, and how combining the both authentically is the best way to achieve ROI.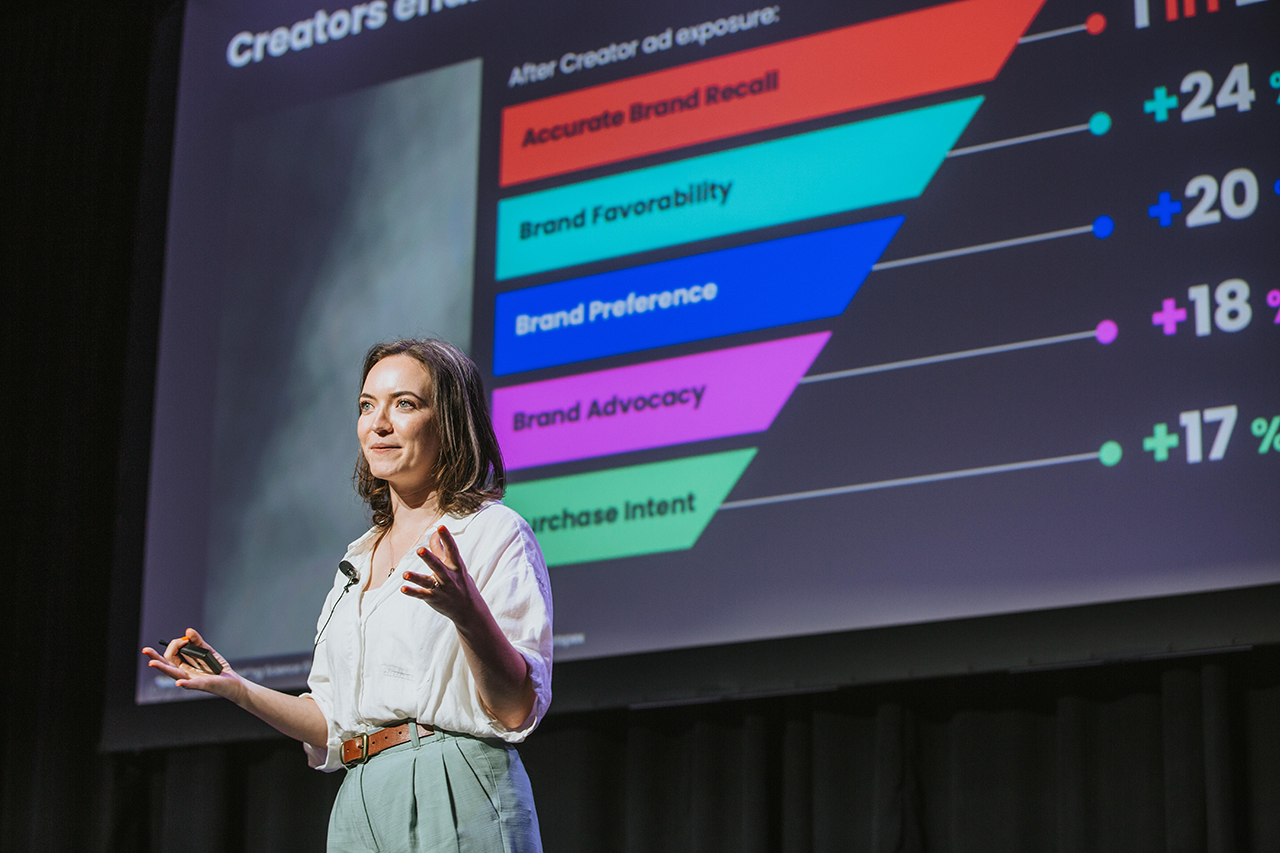 Brutality or Honesty: Exploring the Implications and Opportunities of De-Influencing
Exploring how brands can turn a bad review into a creative opportunity, the Influencity Stage saw some of the industry's brightest minds come together to teach the audience how they can navigate the de-influencing trend and continue to build authentic connections with target audiences.
Attendees were in good company, too, joined by Olivia Zhou, VP, Talent & Partnerships at Rolen Group, Saheedat Abdul, Global Influencer Lead at Airbnb, Gary Orellana, SVP, Influencer Marketing at Dentsu Creative, and Farah Deen, Influencer Relationships, Luxe Division at L'Oreal.
Attendees were blown away by the discussions on authenticity and how such trends can cause a large impact on the industry. Ethan Mayers, CEO of Creators Entertainment Group, shared his amazement at Zhou's moderation over "an insightful discussion on the causes, impacts, and the future of the de-influencing trend." Attendees walked away with a reminder of the importance of long-term contractual partnerships between brands and creators, and how they are the key to influencer marketing triumph.
Intentional Influencer Marketing: How to Thoughtfully Reach Gen-Z Audiences
Nearing the end of the day, the impact.com stage was the place to be for any attendees looking to connect with Gen Z audiences using a thoughtful influencer approach. Gracing the stage with their wisdom were Kaijona Wade, Director of Content, Influencer & Affiliate at PubW, and Hemayak Gertmenian, Head of Creative Strategy at Captiv8.
Sharing their top tips for reaching Gen Z in the best way possible, Wade explained how this "requires marketers to hold a deep understanding of their core values," detailing the need for "a consistent and holistic influencer marketing strategy" that understands the consumer's values, as well as the social media landscape as a whole.
After attending the session, Stacey Levine, Brand Marketing and Comms Consultant, shared, "One of my favourite nuggets was (when) they spoke about how the expectation of young Gen Z is that a brand is making an effort to be a part of every aspect of their ecosystem, rather than starting in one channel and then tiptoeing into other areas." The audience left the session with a new array of valuable insights on Gen Z audiences, with Levine's key takeaway being: "The experience of good brands permeates across all channels, and that's (Gen Z's) expectation now."
A huge thank you to the ecstatic crowd who attended, and of course to our event partners who supported this fantastic show and made it come to life!
Save the date
The Influencer Marketing Show Europe will return to London's Old Billingsgate for one jam-packed day of unparalleled learning, networking, and growth opportunities on 26th October 2023, after PI LIVE Europe on 24th-25th October 2023!
You can now secure your place, but be quick as super earlybird tickets end on Friday (tomorrow)!