In a world where the majority of people now have access to mobile phones, and social media platforms and can be 'online' across the globe; it makes it harder to justify why a business or an individual should invest in a content creator. Statistically speaking, you probably also consider yourself a 'content creator', at least to some degree. 30% of 18-24-year-olds and 40% of 25-34-year-olds call themselves content creators, which makes sense, considering how deeply ingrained social media is in our lives.
So in short, I will be sharing why it's beneficial for your business to work with content creators who are not the business accountant, receptionist, or account manager – if you wish to stay current, continue to have a presence with purposeful, strategic and interesting content.
What exactly is a content creator and when did this job role boom?
The definition of 'content' is something 'expressed through a medium', and the creator is responsible for the ideation and creation of content. So it's a role whose purpose is to ensure a brand's message reaches a wider audience across various platforms. But, to look at the value of a content creator I think we can take it back to when Covid-19 sent the UK and around the world into lockdown and isolation. Through connectivity and creativity online, which couldn't happen in real life –  I saw the audience turning to digital for escapism and the solution to stay connected with others.
The challenge for social media managers was exploring how to build a profile for these individuals online, both quickly and effectively- how would we keep them present in the public eye and most importantly, ensure they stayed current? Due to the digital space becoming increasingly overcrowded with new content and opportunities, there was still the challenge to be 'seen' amongst all the noise. To do this, we ensured we truly understood the audience and established exactly what the followers wanted to consume- it took skill to make this work.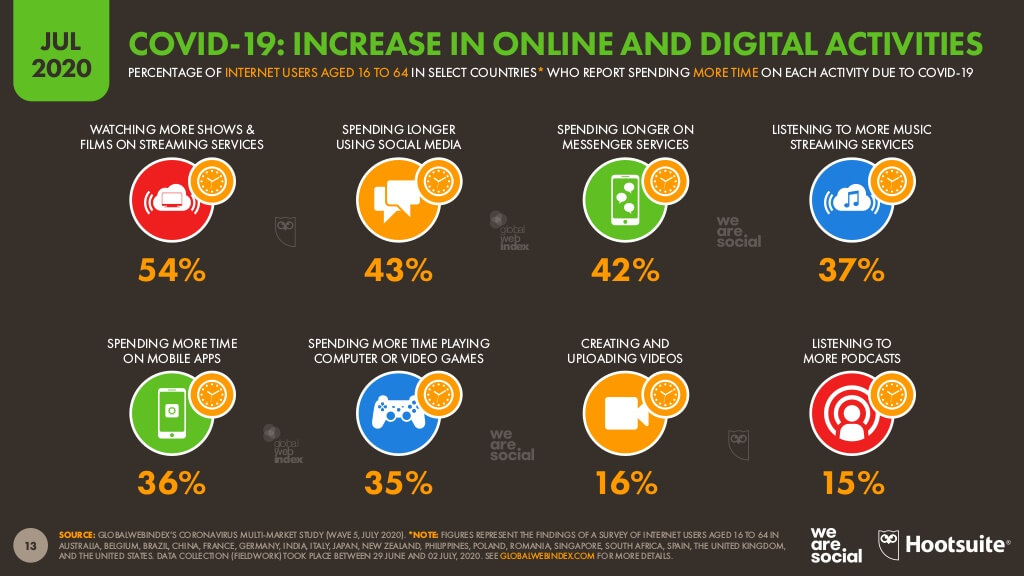 Image sourced: Smart Insights [2022]
Covid rapidly sped up digital content creation, new jobs were born and roles like a 'Tik Tok Writer' became 'a thing'. And so, the level of content being consumed and engaged with was higher than ever before. Nonetheless, what is actually most interesting, is since then it has only continued to soar- as every generation is relying on their devices, creating a huge opportunity for media companies to engage a captive audience.
Digital users now expect the same level of connectivity online, as they do in person. So whether it was the Instagram live DJ sets, trainspotting, or jumping on a viral trend, like #thankyounhs– the pandemic has set a level of precedence for digital creativity, which has to be maintained and quite bluntly, can only be achieved if you invest a dedicated amount of time into it, alongside a specific creative strategy to drive it.
There are no ring fences when it comes to establishing yourself as a content creator. But it's fair to say that we're still seeing multiple brands, platforms and companies continue to produce content that doesn't resonate with their audience. There are two reasons for this – consumers have become smarter with what we choose to engage with- branded content must be original and divert from the fact it's a '#ad', 'influencers' can't just influence anymore, plus gone are the days where you just post about your 5km run, OR companies don't see opportunities for content when they present themselves. So, there is an argument to be made here that there is a higher level of skill, expertise, and influence required within the creator economy than you may realise.
Let's take it back to basics…
Take a big brand, such as Starbucks – we can all take a lovely photo of a skinny coconut chai, or double shot latte, but have you considered being more creative than this? So for example, sharing the story behind how the beans are grown, a road trip Q&A with the coffee bean delivery drivers, a 'pick me up' campaign with positive messages to customers in their cups, or even a community project incentive to buy from Starbucks… Perhaps there is a reason people like me are in a job like this; for finer details, understanding trending culture, or establishing a clear campaign message- all of this can go a long way to building your brand, or business. And I write with confidence that in several years' time we will see all senior management hiring for the role of a 'content creator'- as they will be the driving force for profiling your business.
How can a content creator help you make a great story?
Understanding your audience and their consuming habits is the key to making good content. As a business, you need to sell. How is anyone going to know what you sell, know what you stand for or want to be a part of your community if they do not know you exist if they do not see content. A digital creator is on top of Tik Tok trends, can create engaging content for your paid ads, is able to make an audience laugh and bring personality to your brand, and create a YouTube series – the list is endless! Just have a quick think about brands and social platforms you engage with, because of what they represent. If you're like me, there are certain platforms you always keep a close look out for (shout out to MOB Kitchen).
So essentially, making a great post is often about allowing your audience to help shape the story, so it evolves into more than just 'another brand'. As departing Jaguar Land Rover global marketing communications director Patrick Jubb says, "Creating consumer engagement without meaningful brand connection is a missed opportunity".
More interestingly, what we are now seeing is content creators, with large followings launching their own credible brands; cutting through the noise and building their own empires. So, what do they have in common? They are passionate about content and know the importance of content for their brand.
So, regardless of what type of content we are consuming, the fact is that every generation is relying on their devices to stay connected and engage with brands. Covid-19 has only increased the demand for media habits.


Ultimately, it's clear that content is one of the most powerful tools we have as a brand. But for most, we still need help to really understand the full creative potential and actually, when it comes to the content we create, most of us still don't have a strategy that we're following. This applies to both individuals and businesses. So next time a content creator approaches you, hear them out and listen to their ideas for your business; always stay curious and creative with how you can profile your business. Social media is ever-changing and it's important to acknowledge that and keep up!