In the last several years, interest in influencer marketing has only been eclipsed by one other marketing strategy: brand ambassadors.
A brand ambassador programme involves reactivating top-performing influencers over a longer-term period of time and on a regular basis. These programmes allow marketers to establish stronger partnerships with content creators who truly believe in their brand and empower them to build consistent trust with the creators' audiences.
The beauty of ambassador programmes is that you can leverage the full spectrum of influence, from mega-influencers who are big names with a big reach to micro-influencers who create quality content at scale, to advocates and loyalists who are passionate about your brand already. Ambassador earnings will vary between brands, but Indeed.com notes that a salary for brand ambassadors sits around $18 per hour.
With these powers combined…
When brands grow their ambassador programmes, they can unlock even more value as ambassadors become advocates and long-term fans of the brand — as long as it's a positive relationship and business partnership. The benefit is clear: not only do ambassador programmes provide a consistent lift through content, but they also allow brands to maximise the use of that content by repurposing across the brand's owned channels —  social, their website, and emails — making the efficacy and efficiency of ambassador programmes especially high.
Your secret weapon for ambassador programmes
The tried and true triple threat: your micro-influencer network. They're the perfect long-term partner to create supplementary content and can generate more engagement and exposure for your brand.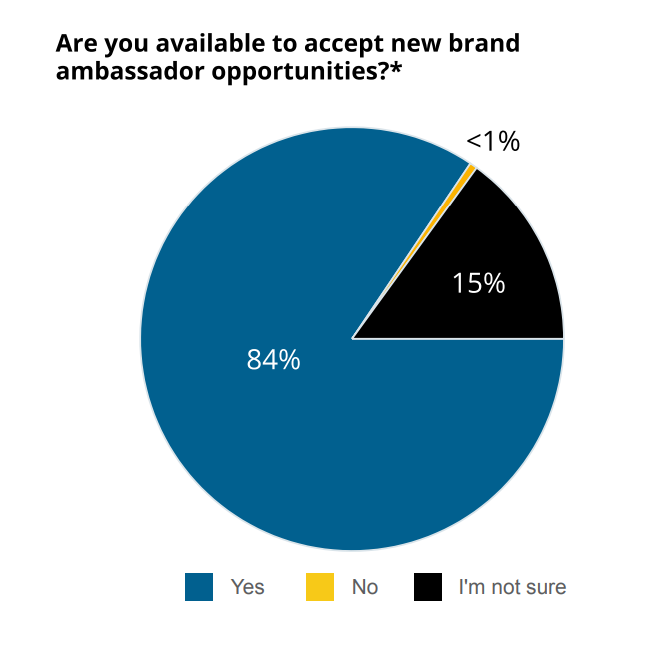 The good news is that creators are looking for more opportunities to partner with brands, and ambassador programmes are a sure-fire way to utilise their talent and reach. In a recent Mavrck survey of over 300 content creators, 84% of respondents say that they'd be eager to team up with brands for long-term ambassador partnerships. Of those creators, 60% self-identify as part-time creators.
But here's the question: how do you set up a successful brand ambassador programme?
Seven steps to building a successful ambassador programme
The chances are good that there are already creators out there talking about your brand in a favourable way. These creators are perfect candidates for an ambassador programme. Consider following these seven steps to set up and run a successful program that activates brand ambassadors:
Define your objections
First, determine what brand or business objective(s) you need your ambassador programme to contribute to, and then define the KPI goals for how you will get there.
Determine your incentive strategy
Consider when you'd like to give incentives — before content creation, after, or both. Determine whether your incentive is activity-based (e.g. creation of a post), performance-based (e.g. engagements, clicks, conversions), or both. Finalise whether you're offering a product, gift cards, loyalty points, VIP experience, cash, affiliate commission, or a combination of several types.
Identify your brand's ambassador persona
Look at top-performing influencers after running multiple campaigns and evaluating top creators to invite. Tap into your customer base to recruit from brand-owned touchpoints and leverage organic brand passion from loyal consumers. Leverage your brand employees by sending invitations asking them to promote the program through their social media channels.
Invite ambassadors to apply to your programme
Invite and vet potential ambassadors. Identify what each ambassador would bring to the table and make sure the ambassador pool is diverse. Once ambassadors have been selected, provide them with creative briefs and campaign guidelines. This can be done with a kick-off meeting in person or virtually.
Maintain a consistent programme cadence
Brief ambassadors each month (or on a regular cadence) to request content by certain deadlines. Evaluate ambassador performance throughout the programme. If certain influencers do not post, consider removing them and inviting a different content creator to join.
Aim for clear communication
The more communication with ambassadors, the better relationships you build. Make sure to send:
A welcome email
Campaign brief/instructions email (mapping to your objectives)
Photography/posting tips
Reminder emails with brief attached
A "thank you" email after content creation
Always measure success
Evaluate your KPIs by asking, how is your ambassador programme performing relative to the goals you set? Use any current tools or modelling your brand already has in place to deepen your analysis of success. After the campaign is completed, send a survey to gain feedback from your ambassadors to optimise the programme.
Keep in mind that ambassador programmes are more than just content creation. Brand ambassadors are excellent content creators, but they can also contribute content across the consumer journey to drive ratings, reviews, and referrals, deliver creative or campaign feedback, or even participate in consumer panels.
Success in action with Rosefield's ambassadors
We love a success story! We're so inspired by the winning ambassador programme from Rosefield, which wanted to prioritise and emphasise its consumers' organic and authentic brand passion. By leveraging Mavrck's platform, Rosefield developed an ambassador community of consumers who loved their iconic brand.
In addition to incentivising ambassadors with exclusive access to new products, Rosefield rewarded high-performing influencers, advocates, and referrers with points, which were managed and redeemed for store credit via the Rosefield community microsite on its website.
Rosefield's collaboration with Mavrck on an ambassador programme took them to new heights with a 167% return on influencer spending, a 400% increase in sales directly attributed to influencer marketing, double their usual conversion rates from influencer referral traffic, a 700% increase in monthly impressions, and an ambassador community over 70,000 creators strong. This wildly successful program execution is why we love ambassador programmes!
Are you currently running an ambassador programme? What has been helpful for you when activating new ambassadors and where have you run into challenges?