For the first time ever, the Influencer Marketing Show flagship event hosted its own dedicated day event at Old Billingsgate, London. Previously, the Influencer Marketing Show London has intertwined with PI LIVE London, but as the influencer sphere continues to grow and mature, the IMS team decided the show deserved its own day!
The day was chaired by influencer marketing veteran, Scott Guthrie, and the wonderful Emily Trenouth, Head of Influencer Marketing at MediaCom. Taking to the LTK and Whalar stages, both Emily and Scott opened the show by welcoming attendees and setting the tone for the day's sessions.
Scott also announced the launch of the official Influencer Marketing Trade Body – a professional membership organisation dedicated to building a robust, sustainable future for the influencer marketing industry. Founding partners include huge industry names such as IMS sponsors, Whalar and Tagger, Ogilvy, Takumi, and INCA.
What did attendees learn today?
A focus on human touch
Kicking off the first session of the day on the Whalar stage was James Routledge, Founder, and Author at Sanctus. James discussed the ever-important topic of mental health at work. This was an extremely fitting topic to start the day with as we all continue to adapt to alternative working situations due to the pandemic – including meeting today in person for the first time since 2019!
Remaining on the topic of mental health and human touch, Emma Harman, Chief Client Officer at Whalar, delivered a thought-provoking keynote in which she spoke about the way we turn to influencers for their human connection, trustworthiness, and credibility. Emma shared how strategically aligning influencers with your brand over a long-term period, and connecting with them on a personal basis, drives business results.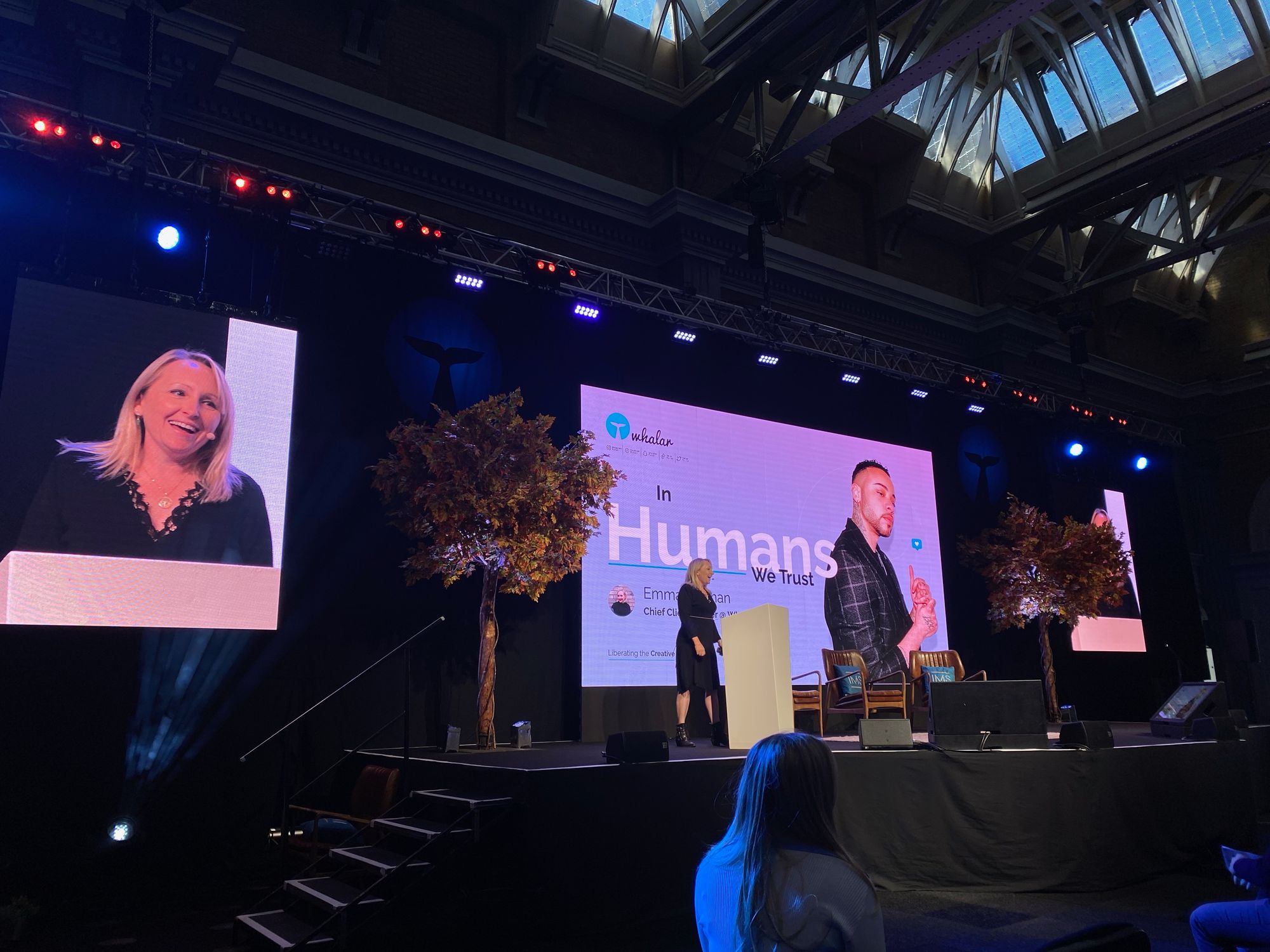 The power of social commerce
Social commerce was a must-feature topic at this year's Influencer Marketing Show. Emily Trenouth, Becky Owen, Head of Branded Content – Creative Shop at Facebook, and Oliver Lewis, Founder and Group MD at THE FIFTH, came together to chat about social commerce after initially discussing the topic at IMS Global in April.
A lot had developed since April, so the panel had a lot to discuss in regards to shopping integration into traditional social channels. They reflected on the successes, the failures, the moves that no one saw coming, and shared their prediction about what they think is next for social commerce.
The conversation focussed largely on the growth of live shopping driven by creators. Oliver noted how live shopping content doesn't have to be high production to succeed, the true key to success here is the casting. Becky added that live shopping content doesn't have to just focus on one moment in time, but can be a real content creation machine.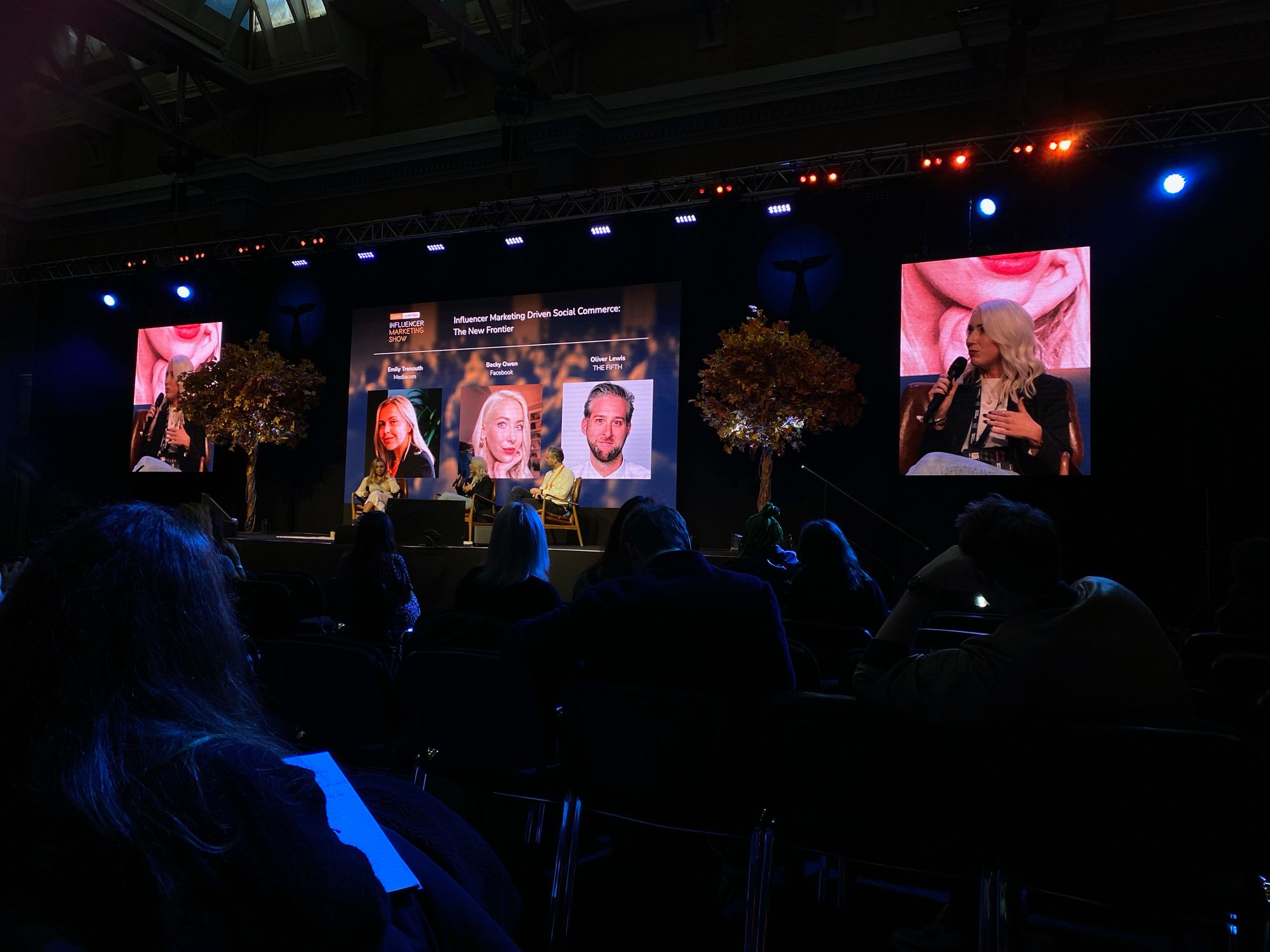 Another panel of experts, including Content Creator, Beth Bartram, Digital Creator, Eleanor Barkes, Influencer, Laura Blair, Digital Content Creator, Larissa hazel, and Johan Kristensson Head of Creator Success – Europe at LTK also came together to break down the differences between social commerce and creator commerce. The panel tackled topics such as how creators can use their Shops to boost sales as well as combat declines in social media engagement.
More from the influencers themselves
Despite #IMSLDN21 focussing on B2B relationships, for brands and agencies to succeed, it's important that they hear from the influencers they're partnering with. In a session run by two of Digital Voices Creative Strategists, Rachel Porter, and Sammy Albon, the pair reflected on Sammy's former career as a creator, spanning the best part of a decade. Rachel and Sammy busted myths, chatted highs and lows, and provided actionable advice to those with established influencer marketing strategies and those who are just entering the space.
Focusing more on the representation of influencers in the media, an expert panel featuring Dan Edge, Actor, and Disability Access Consultant at C Talent, Fatstimbo, a Social Media Influencer, and Aime Hunter, Creator Solutions Manager at Whalar, delved into the topic of disability in influencer marketing.
This panel really broadened the definition of diversity and inclusion and spoke openly about the importance of brands and agencies advancing disability visibility and inclusion in their influencer marketing campaigns. The panel was extremely well received, and it would certainly be interesting to revisit this topic in the future to see how things have progressed.
Talking Influence's Staff Writer, Neve Fear-Smith caught up with Fatstimbo after the session to chat about the day's sessions and the exciting networking opportunities that were on offer – we will be sharing this exclusive interview very soon.
Futurgazing, 2022 and beyond
Adaptation and innovation are of utmost importance for influencer marketers – which is why it was extremely important for the speakers at #IMSLDN21 to take a look into the future within their sessions.
Another excellent panel of professionals spoke about the growth of performance-driven marketing. The influencer marketing industry is turning to performance to help prove its value, and the panel shared their thoughts on what this model means for the future of influencer marketing, especially how metrics can measure influencer campaigns' success.
Speaking of integrating more tech into influencer marketing, BEN Group's Alex McFadyen, SVP of Technology, and Mark Bassett, Senior Director of Strategy and Business Development for EMEA explored the development of AI. The pair took a deep dive into a journey of exploration into the technology, sharing some practical implications showing the impact of AI on influencer marketing.
Jone Conde, the person in charge of Public Figure Partnerships for TikTok Spain, and Nat Cortazar, Founder, and CEO of The Good Egg – both sponsors of this year's Influencer Marketing Show London – shared the importance of having a truly international influencer marketing team. Jone and Natalia are both female immigrants in the UK, and they really emphasised the value of what other cultures bring to the UK – especially in our industry.
A live Talking Influence podcast recording
The day concluded with a live recording of the Talking Influence Podcast. During this session, Talking Influence's Staff Writer, Neve Fear-Smith, chatted to Imogen Coles, Content Creator, and Senior Influence Programme Director at Ogilvy, about her personal influences, professional influences, and the influences that are shaping her goals for the future. Imogen discussed how sharing photographs on social media as a young teen provoked her creativity, as well as touching upon how in this digital world, we mustn't forget the importance of connecting with one another in person.
The podcast episode will be uploaded onto listening platforms next week so that nobody has to miss out.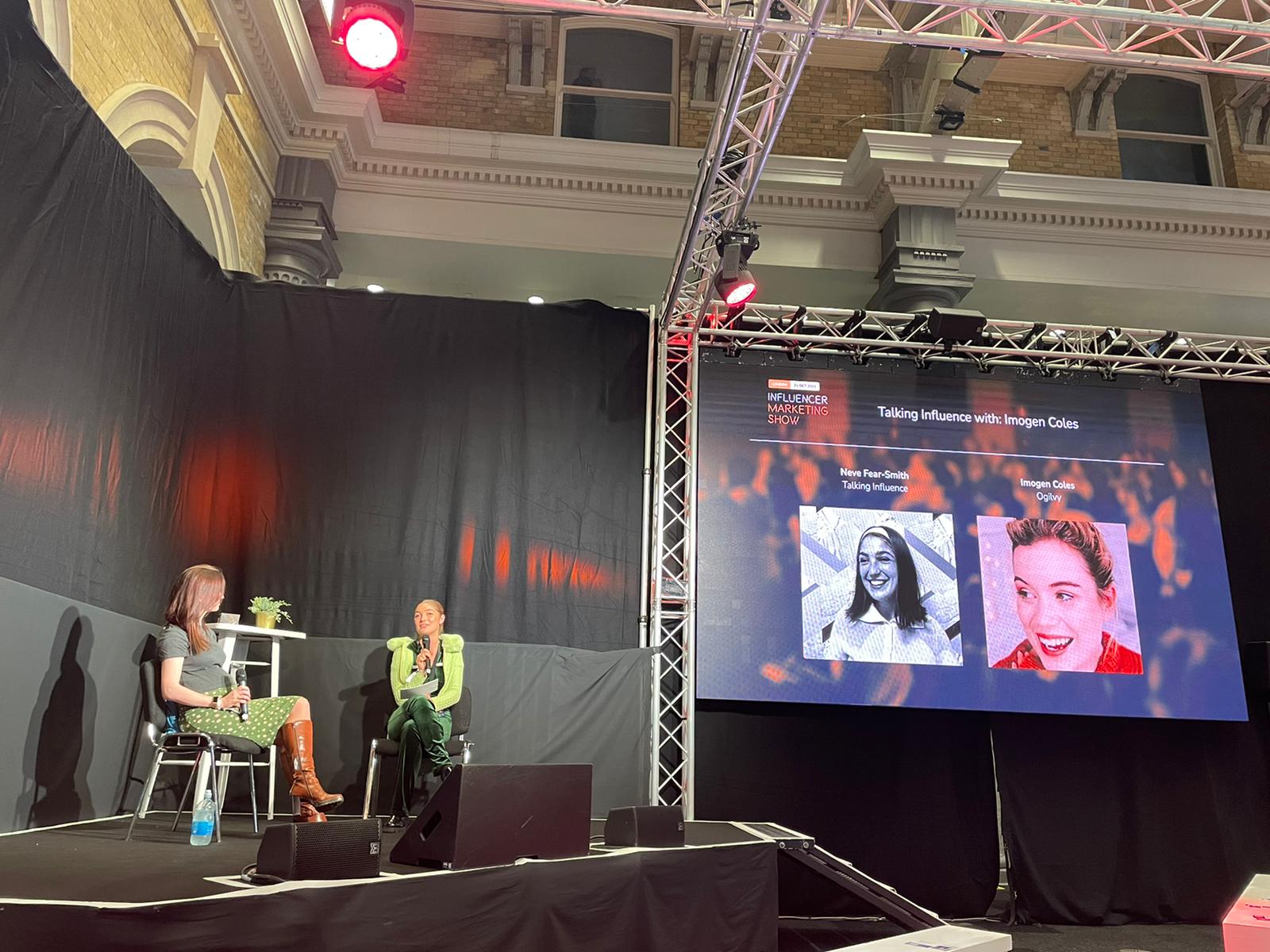 If you were unable to attend all of the day's sessions, or want to reflect upon what you learned, all sessions will be available via the video vault very shortly and will be available to view for 12 months. Ticket holders, keep an eye on your inbox for information on how to access the vault.
A huge thank you to everybody that took part in and attended the Influencer Marketing Show London 2021. It was excellent to enjoy the first-ever IMS stand-alone show – gathering together to engage in insightful sessions, networking together, and spark our creativity.
The Talking Influence and IMS team cannot wait to see you again next year at Old Billingsgate!