To put it simply, an affiliate is a person or company that advertises a product or service on the behalf of a brand. An affiliate can be a publication for example Buzzfeed, the Guardian, and the like – they would advertise a product or service in an article, for example, and be paid by the creator of the product or service to do so. An affiliate could also be a tech publisher, for example, Honey or Groupon, who are paid to advertise a brand's product.

In this case, we are taking a look at how an influencer can take on an affiliate role. Influencers and content creators can offer a brand or company large, engaged audiences as well as beautiful photos and storytelling which play an important role in the customer journey.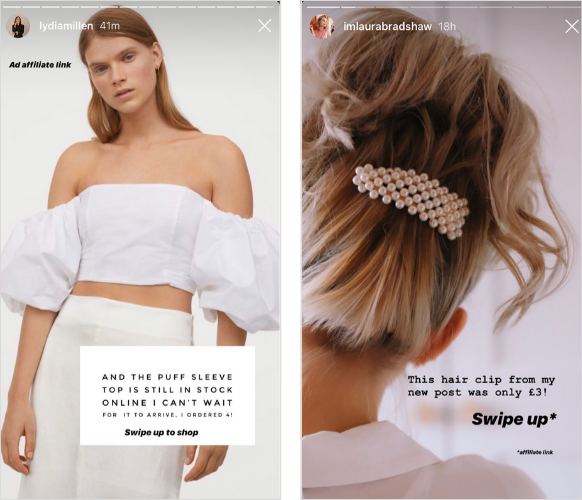 How do influencers benefit from becoming affiliates?
The benefit for any affiliate is that they are paid for their efforts. An example of how this would work in the influencer sphere is that a brand, for example, a fashion brand would recruit an influencer as an affiliate, choosing an influencer who aligns with the brand as well as having an audience that would be engaged and interested in the product.
The brand would then provide the influencer with a product or multiple products, clothing for example, and the influencers role would be to produce content eg. photographs, videos clearly displaying and/or promoting the clothing. When the influencer shares the content wearing or showing the clothing, they must state that they are an affiliate, and they can then share a unique link with their audience.
When the influencers' audience shops the product using this link, the influencer will receive a percentage of the profit, meaning there is an incentive for them to share the product, and the brand can afford to offer a percentage to its affiliate as it reaches new and larger audiences.
Connecting brands and affiliates
For brands and influencers who are yet to delve into affiliate marketing, and are stuck with where to begin, there are different platforms that enable brands and affiliates to become connected, which is great for brands who don't have hours to spare to scroll through social media.
Affiliate networks are able to aid both publishers and advertisers with affiliate marketing by discovering more about advertisers' and publishers' goals and objectives, conversion rates, and audience profile. With the tools in place to allow affiliate and influencer marketing to come together seamlessly, the two industries can help one another to thrive.