The aim of NEDAwareness Week is to raise the importance of education surrounding eating disorders while offering helpful resources to sufferers and the general public.
According to the leading UK eating disorders charity, Beat, 1.25 million people in the UK have an eating disorder. Although it is not rare for someone to develop an eating disorder later in life, the majority of eating disorder sufferers are adolescents. It is often reported that social media acts as a contributor to this, as young people are constantly faced with images of the 'ideal' body.
With research showing that social media can have an effect on body image, eating habits, and self-esteem, it is important that social media platforms and their users – notably influencers, are aware of how they can shape their content to encourage positivity and provide support to those in need.
Popular social media platforms have been working towards launching tails that will help users during NEDAwareness Week, and beyond:
Instagram introduces important resources
This week, in conjunction with NEDAwareness Week, Instagram announced that they have added a new set of resources to provide helpful tools to users who are posting or consuming content related to eating disorders and negative body image. Now, when a user searches for a hashtag related to these issues, Instagram will provide the user with helpful prompts, such as details for eating disorder hotlines.

Instagram confirmed that they have a policy against sharing content that shows graphic self-harm, or promotion of self-harm. This now includes content surrounding eating disorders that is deemed to have potentially negative consequences.
TikTok provides useful public service announcements
TikTok has also announced this week that they will be introducing new in-app support services. The team at TikTok reported: "Starting this week, when a user searches for #edrecovery #proana or other phrases related to eating disorders, we'll provide access to the National Eating Disorders Association Helpline where they can find help, support, and information about treatment options."

Acting as an inclusive, creative outlet for users, TikTok's aim is always to make sure the app is as safe as possible, especially considering its young, impressionable usership. So as well as introducing alerts on hashtags that are directly connected to eating disorders, they will be including public service announcements on hashtag pages such as #WhatIEatInADay. TikTok and the National Eating Disorders Association (NEDA) worked together to create these public service announcements to cover as many areas of concern as possible.
Pinterest partner with the National Eating Disorder Association
As Pinterest continues to attract new users, following its recent story carousel launch, this week the team behind the app has announced that they will be partnering with NEDA to support body positivity.
NEDA and Pinterest have worked together to create a series of interactive story pins offering information and support in relation to eating disorders and body image. Pinners are encouraged to share their own stories, have open discussions, and use the resources provided to reach out for help or help a friend who may be in need.
As well as these dedicated pins, Pinterest will be donating ad credits to help encourage people to tune into NEDAwareness Week events.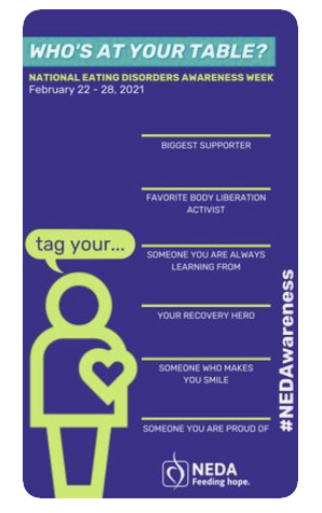 Positive influencer resources
TikTok is encouraging users to share positive content surrounding NEDAwareness Week using the hashtag #NEDAwareness, and Instagram is working with creators to create educational content during the week, that will continue to be available after.
Instagram creator, Mik Zazon consistently shares content promoting body positivity using the hashtag #normalizenormalbodies. She encourages her followers to love and appreciate their bodies, whether they fit the societal beauty standard or not. In honour of NEDAwareness Week, Mik shared a Reel on her page where she shared her story about how gaining weight and becoming less restrictive with food allowed her to really live her life. She shared how asking for help was the best decision she ever made.
James Rose, also an Instagram creator, as well as an actor and writer, uses their account to speak about eating disorder awareness and recovery from a trans and non-binary perspective. Stereotypically, many people assume that eating disorders are a female issue, so Jamie advocates centering trans and non-binary people in recovery conversations, rather than including them as an afterthought.
Social media influencers who take the 'glamour' away from eating disorders, and openly discuss how it is normal to be 'normal' act as helpful and accessible resources, especially for young people who are consuming large amounts of social media content. Especially during the pandemic, we have seen more demand for influencers who are realistic, rather than filtered and out of reach.
Together with the new resources provided by Instagram, TikTok, and Pinterest, we can expect to see more support online for eating disorder sufferers, not just during NEDAwareness Week, but continuing into the future.