EDF Energy launched an electric vehicle (EV) proposition, which comprised of providing consumers with a fully equipped package, making it super easy for consumers to convert to and use an EV. The biggest challenge for Gleam Futures and Brilliant Noise was finding a way to bust ingrained myths and ease consumer concern about the ability of EVs to get you from A to B.
With a strong reputation to uphold, this new proposition had to be successful or EDF Energy risked losing its position as the UK's leading domestic low-carbon supplier. Its marketing strategy needed to reflect this standing to current and new consumers in a creative, engaging way and embody its belief that the future is electric.
Key campaign objectives
The key campaign objectives were to drive brand awareness and engagement among high-energy consuming, non-EDF Energy customers and increase perception and recognition of EDF Energy as a progressive, innovative, cool brand and create saliency among its existing customers.
Campaign process and execution
Prior to any creative ideation or strategic campaign planning, it was imperative for us to understand the electric vehicle (EV) marketplace from a consumer's perspective. The team ran an analysis of the current state of marketing on EVs and assessed consumer conversation amongst EDF Energy's competitors (namely energy companies and car manufacturers) to understand consumers' needs across their entire decision journey, from awareness to conversion. The team assessed the content, UX, performance in search and marketing campaigns, and from there, mapped it all to understand what the opportunity was in content and search for EDF Energy.

Gleam and Brilliant Noise compared search volumes against the quality and breadth of this content and could see that the concerns consumers had about EVs were not being answered in an easy-to-understand way. They conceived the idea for Electric Adventures – a story-led, customer-focused social media video campaign with high-quality, talented influencers at the heart. In this five-part video series hosted on EDF Energy's social media channels, some of the UK's most loved travel, tech, family and lifestyle influencers would journey across the country to demonstrate the ease of driving long distance in an EV. With video content across the influencers' own social media channels to support the series, the team wanted the campaign to create more in-depth brand engagement than a 30 second TV advert could achieve, with average view times exceeding three minutes.

Gleam selected The Michalaks, Jim Chapman, Hand Luggage Only, Mother Pukka, Colin Furze and Camilla Thurlow, all with a combined following of 4.6m, reaching a mix of audience demographics from parents and families to millennials, round the world travellers to tech fans and science enthusiasts. With the creative for the hero video series set, they collaborated with both brand and influencers to determine the creative for each of the influencers' content and how to communicate the key messages in an authentic, relatable way.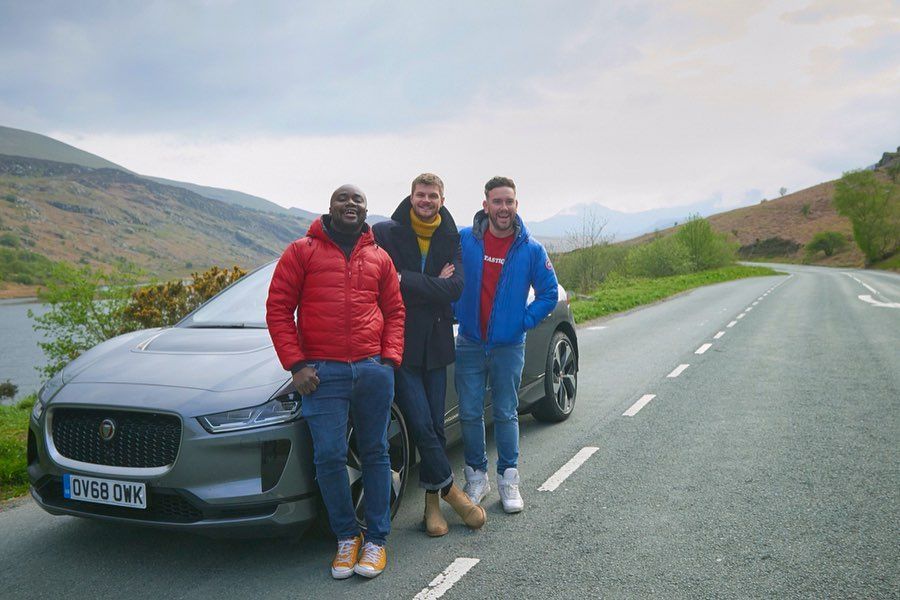 Creativity & innovation
The team used Gleam Futures' proprietary talent identification tool, Gleam Insight, to identify influencers that would hit the target demographic for EDF Energy and to ensure the shortlist of relevant influencers were brand-safe with legitimate followings. Using the expert human insight, and then manually confirmed that their audiences were highly engaged in them and their content and that their past content was in keeping with the messaging EDF Energy wanted to convey and their values as a brand. Through their creative ideation process, they wanted each film to be centred around a classic British road trip that would feel authentic and relatable, but with a twist.

The team decided to set influencers the challenge of completing a well-known British road trip, each in a different EV (including a Tesla, Jaguar i-Pace and others) in a bid to tackle the common misconceptions of EVs. Shot by a professional production team, it was important for the episodes to strike a careful balance between showcasing the influencers' entertaining personalities on an adventure that felt authentic to them, whilst offering practical advice on travelling in an EV.
To accompany the main video series as hero content, Gleam and Brilliant Noise wanted to ensure each episode would be supported by shorter social edits and content created by the influencers themselves and shared from their own social media platforms. This was to drive audiences to watch the main, full-length versions of the episodes, both via organic sharing, and fueled by a full multi-channel digital advertising and PR campaign. They engaged Gleam's Talent Plus amplification product, which was to take the influencers' content and boost it using their own audience data to target lookalike audiences. This was based on research done on previous campaigns that saw a higher reach, and a much better CPE/CPC compared to boosting on brands' platforms.
Results
In partnering with six influencers who were the perfect brand fit and have strong audience engagement, the team created a standout video series, which enabled personalities and personal stories to be brought to life in a cinematic and entertaining way whilst myths were busted and EDF Energy's high-quality reputation was upheld.
With video content across the influencers' own social media channels to support the series, the campaign created far more in-depth brand engagement than a 30 second TV advert could achieve, with average view times exceeding three minutes 40 seconds. The selection of influencers coupled with the quality of the storytelling content resulted in positive sentiment from viewers. There was a real mix of comments, either confirming the myth busts or asking more questions, which enable us and the influencers to respond and quell any further fears around electric cars:

• "We switched to an electric car as our family car nearly five years ago now, and don't think I'd go back to petrol now. Super cheap to run, plus the prime parking spots are always a winner with tired kids!💚"
• "I think the UK having electric cars is a must – good campaign"
• "Filling up at the petrol station is the worst job, I'd definitely consider an electric next. It's the way forward! We already have charging points at work."
• "Watched this yesterday. Two of my favourites, Camilla and electric cars. Great video, despite your original range anxiety." With 59 pieces of content across social and blog platforms from six talent, they  achieved: 1. 1 million+ people in the UK reached by Electric Adventures video content 2. 3m 40s average view time for each full-length film 3. 3m 53s dwell time on a campaign landing page, 194% above site average.
Conclusion
EDF Energy launched a new electric vehicle (EV) proposition, which provides consumers with a fully equipped package, making it super easy to convert to an EV. Strategically partnering EDF Energy with six of the UK's most loved influencers to create compelling, cinematic storytelling social video content in the form of long-distance 'Electric Adventures', reached over 1 million views and achieved the campaign's objectives. These were to drive brand engagement, increase the perception of EDF Energy as a progressive, innovative brand, create saliency among existing customers and bust myths to ease consumer concern about EVs in an easy to understand way.
Gleam Futures and Brilliant Noise won Gold at the 2020 influencer Marketing Awards for its campaign at the 2020 influencer Marketing Awards. See who else scooped the top prize by downloading the official Book of the Night. Check out more impressive influencer case studies here.