As COVID-19 continues to change the way brands do business and connect with consumers, we want to chat with those in the influencer marketing industry about how they are changing the way they work, the shifts they are seeing and what the pandemic might spell for the space long-term.
We spoke to Lauren Spearman, head of brand advocacy at MADE.COM, about how they are adapting to the current climate, using their influence to do more social good, and how creator content and collaborations are shifting.
Firstly, I hope you and the team are safe and well. How has the pandemic affected MADE.COM's influencer relationships on a day-to-day basis?
From day one, relationships have always been a priority for us. This hasn't changed throughout the pandemic. We have been transparent with how it has affected us, what this means in the short, medium and long term, and what actions we are taking right now. By building organic connections and finding true brand advocates, we have seen a positive reaction to our approach and to the work we've been doing.
Do you think it will change creator collaborations long-term for brands?
Definitely. For a while we've witnessed brands partake in the smash-and-grab approach with collaborations, dipping in and out with different creators for each campaign. I think now we may finally see that shift.
Ad Hoc campaigns pose a higher risk for postponement or cancellation, which has become clearer during uncertain economic times like these. I've no doubt we'll see a desire for longer-term partnerships, which not only offer more security for the influencer but creates a more credible collaboration for the brand too.
It is vital that the audiences on both sides of the partnership see it as a natural fit, an extension of the brand and that the creator is given the creative freedom to share the brand's message in their own way.
How has MADE.COM maintained the human element of influencer marketing while working from home?
DMs, Zoom and email are our best friends right now as we endeavour to keep in touch.
We've also been working with several creators to contribute to our latest campaign,
Stay Grounded.
Whether your kitchen's now doubling as your business HQ, or your bedroom's feeling more like a boardroom, adapting to the 'new normal' has been anything but. To ensure that what MADE.COM's doing is relevant, we've been asking our audience what content they want from us right now. From expert styling tips to some of the best stories from our community, we hope to help our audience to get the most out of working from home.
The fantastic thing about the influencer industry is that it is reactive. Have you seen a shift in creator content as more people are spending time at home and creators look to diversify?
Absolutely. We've seen a shift away from the super-polished content and interestingly a much more diverse range of content.
At a time that people are seeking out content relevant to their interests, we can see that micro-influencers focusing on niche topics may be far more appealing than celebrities covering broader topics.
How important is it that businesses adapt their strategies quickly?
It's important, but businesses need to be careful not to panic and change things too quickly. Don't overlook the importance of taking time to listen, assess, think, and then adapt.
I recently binge listened to Brené Brown's podcast where she talks about FFTs (effing first times) and how hard it is to be new at things. Especially now, when we're all experiencing something as big as a global pandemic, it can put us in a state of unease.
"When we have no relevant experience or expertise, the vulnerability, uncertainty, and fear of these firsts can be overwhelming. Yet, showing up and pushing ourselves past the awkward, learner stage is how we get braver," Brown says in the podcast.
Recognising that this is new for us all is important as we adapt our strategies to something more fitting for the current climate.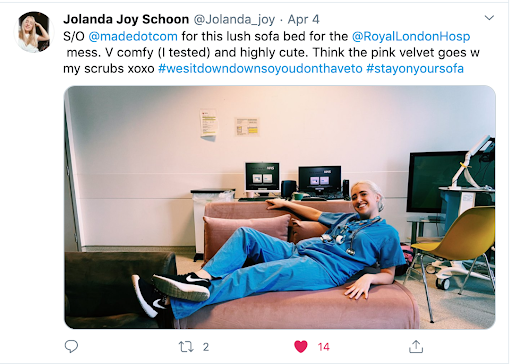 In your opinion, how can brands create more community during this time and align their brand with social good?
As consumers, we will remember how brands have acted during this period; who supported their customers and who did not.
Now more than ever brands need to be more human and, most importantly, add value. What can you create? How can you encourage conversation? Can you entertain? Can you educate? Can you help your community IRL?
Transparency, honesty, and behaving in a way that is focused on doing the right thing will inevitably build genuine communities and generate advocacy for brands.
At MADE.COM we very quickly looked at what we could do to help. For us, that means getting product into the hands of those who need it the most. So, since March 20, MADE.COM has been donating furniture and homewares to upgrade the staff areas in NHS hospitals for health care staff working during the COVID-19 pandemic.
After humbling conversations with many doctors, nurses and key workers, it became clear that decent break areas for staff are often missing. Stories of the realities of daily life on the frontline were incredibly moving, and with health care workers often unable to get home to sleep, we decided to jump in quickly to help. Products that we had available in the UK were sent out as urgently as possible to help provide hospital staff with better places to rest.
Since launching the programme six weeks ago, we've provided 212 departments at 150 hospitals with deliveries containing products requested specifically for each hospital's staff area including sofa beds, dining tables, coffee tables, chairs, accessories, and homewares. The donations are reflective of individual departmental needs as all requests have come through the network of NHS workers themselves.
The project is still ongoing, with over 2,300 products donated to date. We're incredibly grateful and in awe of the work all the NHS and frontline workers are doing at this time.
Want to talk to us about how your brand is shifting strategies and influencer marketing trends? Email us at content@talkinginfluence.com