COVID-19, the topic on everybody's lips at the moment. Turning the world on its head, the virus has spread globally and changed the day-to-day lives of billions. Its force has been felt across society, and almost all businesses have had to completely rewrite their strategies in reaction to the pandemic. This, of course, includes influencer marketing.
Plans to invest in out-of-home advertising are being ripped up and events to showcase new products are being postponed, cancelled or held digitally. With less of us out and about on the streets due to social distancing measures, consumer purchasing habits have changed drastically – we've seen everything from panic bulk-buying to a drastic increase in online orders.
Screen time has rocketed
As I'm sure your phone has kindly alerted you, our screen time reports are higher than ever before – up by 76% week-on-week since the outbreak and internet usage has skyrocketed. Broadband providers are experiencing traffic surges between 30-50% across mobile and fixed networks and expect even more increases as self-isolation policies continue to tighten.
With this in mind, it's not unreasonable to ask whether this could be the coming of age for in-app purchasing. Unlike other sectors, the current outbreak has created an opportunity for marketers and now, more than ever before, brands will need to harness the power of mobile, social and digital channels.
State of play
Physical shopping for anything other than essentials is no longer an option, and this could be our "new reality" for the foreseeable future. As a result, consumers are increasingly turning to alternative channels for their shopping fix, including social media. As a by-product, influencers are seeing a huge jump in activity around their sponsored content. Instagram recently reported a 76% increase in engagement on #AD posts, as well as a 22% increase in Instagram campaign impressions from Q4 2019 to Q1 2020.
The demand is there and now brands have the opportunity to make the most of the tools at their disposal, capitalising on this increase in consumer interest. In particular, shoppable ads have the potential to transform spending habits, creating a closed eco-system where users don't even have to leave the platform to make a purchase.
TikTok: The new major player
While Instagram has always been seen as the platform for influencer marketing, TikTok has recently exploded onto the scene and grown at an exponential rate. Looking at iOS and Android data combined, TikTok was the most-downloaded app in Q1. Subsequently, from February to March 2020, there was a 27% jump in engagement on average across the platform, demonstrating that it is establishing itself as an increasingly important player for driving brand awareness.
In November 2019 it was announced that TikTok would be integrating e-commerce features for its US influencers, ramping up its monetisation efforts in order to attract bigger brands to the platform. Marketers should prepare to analyse metrics around purchases made through shoppable ads which demonstrate clear ROI for brands in the near future. Currently, the platform has grown at such a rate it's struggling to keep up with demand, whether that's rolling out its monetisation tools globally, including in the UK, or implementing regulations around signposting content.
The existing lack of regulation around ad signposting on TikTok is often a concern for brands wanting to ensure they're abiding by ASA guidelines but working with agency professionals in a process-oriented way brings quality control to relationships and peace of mind for brands. We're already starting to see #AD appearing on sponsored posts from reputable influencers and there is no doubt more to follow.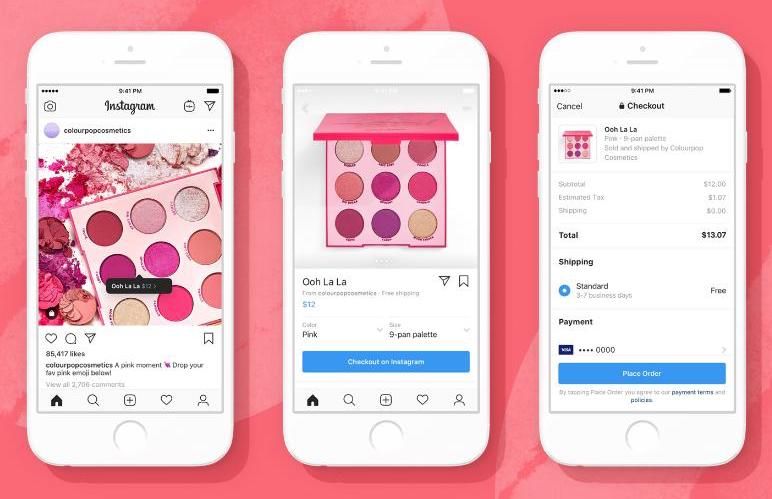 Extra considerations for in-app shopping
Of course, in-app shopping needs to be at the forefront of content creators' minds but brands should be prepared to go the extra mile given the current circumstances. It's vital they invest time and money in analysing the data available to improve ad targeting and the quality of content. Personalisation is paramount at a time where we're all glued to our phones and will pay off in terms of engagement and conversion rates if executed well.
Another added tool to a marketer's arsenal during the coronavirus crisis is branded content ads. Introduced by Instagram in June 2019, they are likely to see a surge in popularity during the lockdown period. With big studios currently shut, brands are relying on influencers for the production of innovative and creative content more than ever. Promoting creators' organic branded content on owned channels is a great way for brands to capitalise on in-app shopping functions. Even traditional advertising channels such as TV are experiencing this shift, with more brands increasingly seeking influencer led content for their TV ads to satisfy a growing consumer demand and to cut costs and delays in production.
In this time of great uncertainty, one thing's for sure – while we're doing our bit and staying inside, shopping habits are going to continue changing. To remain resilient and emerge from the crisis ahead of the competition, brands, influencers, and marketers must be prepared to adapt and capitalise on the new opportunities in-app shopping and shoppable ads present.
To receive the Talking Trends newsletter, sign up here.