According to SaaS platform Upfluence's new study, viewership on Amazon-owned Twitch has increased 24% during the Coronavirus confinement.
Upfluence analysed Twitch data from February 15 to March 22 (just before the UK's lockdown) to see how social behaviors changed during quarantine. One engagement metric to quantify Twitch activity is the total number of viewers on a stream, which have seen a sharp rise as businesses close, home-working begins, and full lockdowns have been implemented.
Users tune into Twitch to watch their favorite streamers broadcast themselves playing video games live. It's free but in order to access some additional features, viewers have to subscribe to a streamer's channel. Twitch's top streamers have a part to play in viewership increases. For example, Dr. Disrespect said he has his third-best month ever. On March 13, views to his channel were up more than 120% compared to his average.
Lockdown viewership
Lockdown countries such as Italy, France, and Spain experienced an increase in Twitch activity from one week to another during March. Based on the data from Italy, France, and Spain during the beginning of their confinement periods, research predicts a spike in viewership between 30-50% for Western countries approaching the same timeframe of restricted social movement.
As soon as the crisis emerged in Western countries, famous musicians announced that while their tours were cancelled, they would continue online music shows for fans. This led to Twitch's music content viewership more than doubling based on data from a weekend comparison, reaching 25,000 viewers.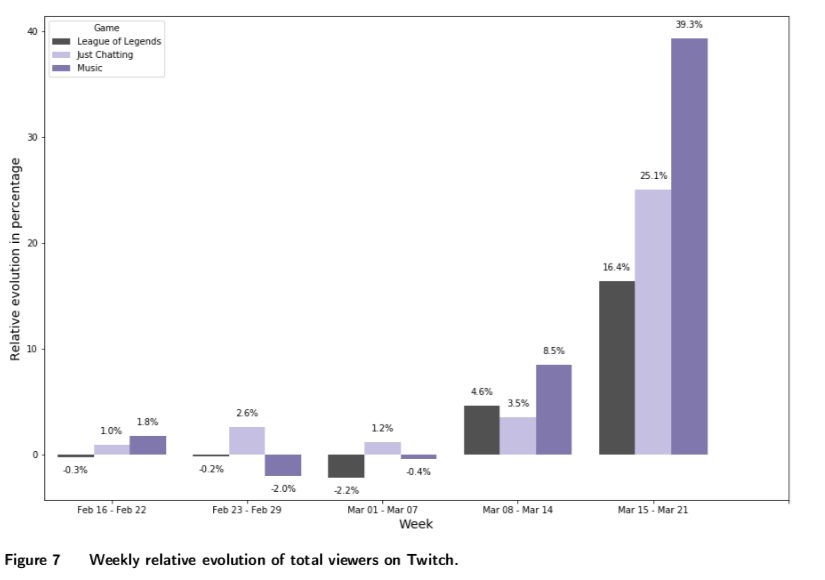 Twitch also experienced a 3.3% jump in the number of new channels in March, the second-biggest monthly increase since January 2019, according to Twitch analysis site Sully Gnome. Measurement firm Comscore also announced that it will start measuring streaming activity on Twitch as the platform looks to capitalize on advertisers' interest.
With a massive growth in viewership and the way the platform is being used, the numbers are only expected to rise as brands look for ways to replace conferences, physical conferences, and entertainment shows, and audiences seek more entertainment from their homes.