The growth of influencer marketing is commendable. It's one of the most effective methods to reach out to your target audience and develop relationships with them.
Influencer marketing
helps brands increase visibility, boost credibility, and gain new customers.
Having said that, social media platforms play an important role in bridging the gap between you and your target audience. It helps you engage with your audience directly and expand your reach. In fact,
29%
of brands report that social media is a "very effective" tool for their businesses.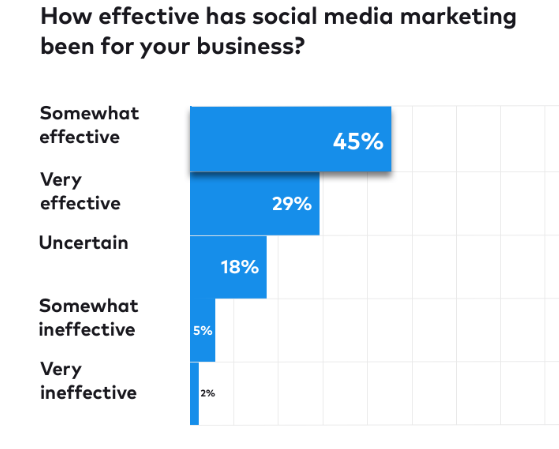 Aside from brands and marketers, social media platforms have also realised the impact and benefits of influencer marketing. So, Facebook took one step ahead and introduced their own influencer marketing tool, the Brand Collabs Manager.
What is Facebook's Brand Collabs Manager?
The
Brand Collabs Manager
tool was introduced by Facebook in July 2018. The tool helps brands and creators discover and connect with each other. It also gives them an opportunity to learn more about each other.
Brands and marketers can use this tool to find relevant content creators who can create sponsored content. The tool also allows influencers to create their own bios and portfolios. This helps brands quickly learn about influencers and about their past works.
With the introduction of this tool, here are some predictions for the future of influencer marketing on Facebook.
1. Create more engaging and interesting content
Content marketing is important for every business but it can be a real challenge for companies with small marketing teams to create appealing content.
That's why influencer marketing is a brilliant option as influencers can help create fresh and engaging content on the brand's behalf. The Facebook Brand Collabs Manager can make the process easier and help you discover the best content creators for your brand.
Using this tool, you can check out the type and quality of content an influencer has created in the past. This will make it easier for you to narrow down influencers who are capable of creating the kind of content you like and suits your brand.
2. Get access to influencer portfolios and media kits
The Brand Collabs Manager gives you access to each influencer's portfolio and media kit, giving you a better understanding of influencer's past work, style, and tone. You'll then be able to understand how they approach sponsored content. The end result is that you collaborate only with influencers who fulfill your requirements and match your brand's tone.
This
Facebook tool
actually enables you to select the influencer who is perfectly relevant for your brand's marketing campaign and it makes your job much easier.
3. Increase brand engagement and awareness
The Facebook Brand Collabs Manager also improves your chances of increasing brand engagement and awareness. That's because it will help you discover influencers who are most capable of driving engagement and introducing you to a relevant target audience.
The tool matches you with influencers whose audiences best match the characteristics of your target audience. These influencers will effectively improve your brand's visibility by talking about your brand to an audience that's likely to listen.
The tool also gives you some insights into their previous campaigns to see just how well they are at engaging their audiences. Partnering with highly engaging influencers will then help you increase brand engagement.
To make sure that your influencers are driving the kind of engagement and awareness you expect, you can use tools like
Grin
. This platform gives you a clear idea of how each influencer in your campaign is performing in terms of metrics like impressions, engagement rate, etc. so you can further filter out influencers who aren't delivering results while the campaign is running.

4. Get top influencer recommendations
While the influencer discovery process is challenging for most brands, the Facebook Brand Collabs Manager simplifies it for you by giving you influencer recommendations. Instead of letting you conduct an extensive search, it recommends the top influencers your brands should work with.
All you need to do is sign up and create a profile in the Brand Collabs Manager, making sure that you include all vital information about your brand in the profile. Facebook will use this information and suggest relevant influencers for your brand. It will also indicate how much percentage of a match you have with each influencer.
For example, let's say you have a sportswear brand. Facebook might suggest both fitness and health profiles as potential influencers. Facebook will rate them and show you the best matches for your brand. When suggesting a relevant influencer, Facebook also scans your past partnerships and recommends a customised list of top influencers. Besides this, content creators on the platform can show interest in your brand. When this happens, the tool even creates a list of all interested influencers for you to review.
Final thoughts
In the influencer marketing landscape, Facebook has taken the game further with the introduction of its own influencer marketing tool. Both brands and content creators can create profiles with the Brand Collabs Manager.
The tool helps brands effectively discover relevant influencers and save a lot of time and effort in their campaigns. This will change the way influencer marketing functions. Now, brands no longer have to go through a lengthy and tiring process to find relevant influencers.
Are you a brand or content creator who has used Facebook's Brand Collabs Manager? What was your experience? Please feel free to share your experience and thoughts on this new tool in the comments section below.