However, like everything on the world wide web, YouTube does not exist in a vacuum. Part of its enduring strength has come from its ability to respond to and incorporate trends that have started on other platforms.
Just as the developers behind YouTube have a key eye trained on the competition (hello, YouTube Shorts), YouTube's most successful creators also have a keen sense of what is trending elsewhere. We've seen this already from platforms like Instagram, LinkedIn, and Facebook, where content trends seamlessly migrate between different formats.
One good example of this is the rise of the overhead food video a few years ago, as made famous by Buzzfeed's Tasty food channel, which found a massive following on Facebook. The trend for shooting food from above was directly inspired by the overhead framing popular with the Instagram foodie accounts of the late '00s.
The wordless video format was born out of Facebook's autoplay video function, which rewarded engaging content that would force users to halt mid-scroll and continue watching. With the influence of these other visual platforms, this 'mini-genre' of food video began to take shape, before fully taking flight on YouTube.
Today, newer platforms such as TikTok and Clubhouse are already influencing the content trends we are seeing on YouTube. Here are two examples of prominent trends that these other platforms have given rise to, which we see slowly working their way into the world of YouTube.
TikTok dances
If you know nothing else about TikTok, you probably know that this platform is rife with dance challenges, with choreographed moves that look hella impressive on your phone screen, and don't quite translate into mainstream TV: both Addison Rae and Charli D'Amelio have appeared on Jimmy Fallon to 'teach' the TV host viral TikTok dances, and on both occasions, it's clear that internet trends and good TV content are two very different things indeed.
Addison Rae and Charli D'Amelio are two hugely popular TikTokers with slightly smaller audiences on YouTube. Addison has four million YouTube subscribers, in comparison to her 79.2 million TikTok followers. Charli is even more popular with 112 million TikTok followers, and less than a tenth of that on YouTube. Millions of YouTube followers is still nothing to be sniffed at, as evidenced by brand collaborations with CeraVe, Hollister, and Raycon on their YouTube channels, but it is interesting that the crossover appeal of these two stars is still limited to primarily to the platform where they first found their fame.
However, the dances that these creators, and millions of other TikTokers, are known for are gradually beginning to make their mark on YouTube. Over the past two years, we've seen an increase in 'dance challenge' content on YouTube, spiking during the pandemic last summer when these dance videos became a major part of many people's at-home exercise regimes.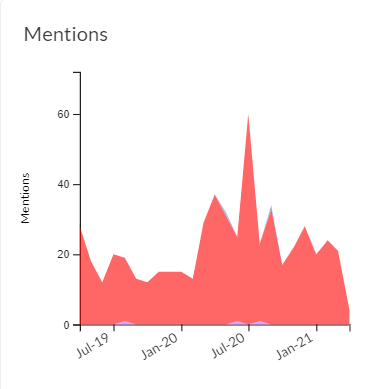 YouTube has also become home to TikTok dance compilation videos and TikTok dance reaction videos. As TikTok's user base continues to explode, these videos are a starting point for many viewers who are curious about the new platform and want to see what all the fuss is about before signing up.
Clubhouse live chats
Clubhouse made a splash at the start of this year as the invite-online live audio party that everyone wanted to be a part of. YouTube has already embraced audio formats in a big way: we've seen a surge in podcast episodes that are also recorded for YouTube. In 2019, The Verge argued YouTube creators are turning the site into a podcast network, citing the popularity of podcast superstars like Ethan and Hila Klein (the H3 Podcast) or Joe Rogan. These creators have built enormous audiences on the video streaming platform, simply by recording video versions of their podcast episodes.
The appeal of Clubhouse is in the promise of a 'live chat', where people are able to talk in real-time, without the polish and finesse of an edited pre-recording. We see that live chat as a concept is growing in popularity on YouTube, as the graph below shows: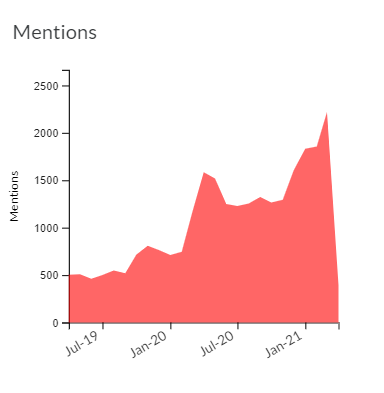 Trend graph by ThoughtLeaders for live chat growth.
In fact, YouTubers are so excited about Clubhouse that they won't shut up about it: we are tracking 4,878 mentions of Clubhouse since the start of 2021 across 1,771 channels. Live streaming for gamers is already an established trend on YouTube (and has found new audiences on Twitch) but it's only a matter of time before we see live discussions on YouTube gaining similar traction.
Content creators need to stay on top of the latest trends on the world's largest streaming site, but these examples show that the next YouTube trend will probably start from another platform entirely. Understanding the power of these crossover genres is key to predicting and getting ahead of the topics and trends we're all going to be watching next.