Just in time for the online holiday shopping season, e-commerce shopping platform Shopify has entered into a global partnership with TikTok to boost social commerce. The deal aims to make it easier for Shopify's over 1 million merchants to reach TikTok's younger audience and drive sales. The partnership will expand to include other in-app shopping features, as well, according to the companies.
At launch, the TikTok channel allows merchants to create and connect their TikTok For Business account and create native, shareable content that turns their products into in-feed shoppable video ads. Their TikTok marketing campaigns can run directly from the Shopify dashboard by installing the new TikTok channel app from the Shopify app store.

Once installed, merchants will have access to key functions and ad tools. Merchants will be able to target their audiences across gender, age, user behavior, and video category, and then track the campaign's performance over time. Merchants can select which product they would like to feature, and video ads are automatically generated that drive to their Shopify stores for checkout. Ready-made templates designed specifically for commerce mean merchants of any size can take advantage of the TikTok channel using their existing imagery or video.
To kick off the partnership, merchants are being offered a $300 ad credit to get started with their first TikTok campaign.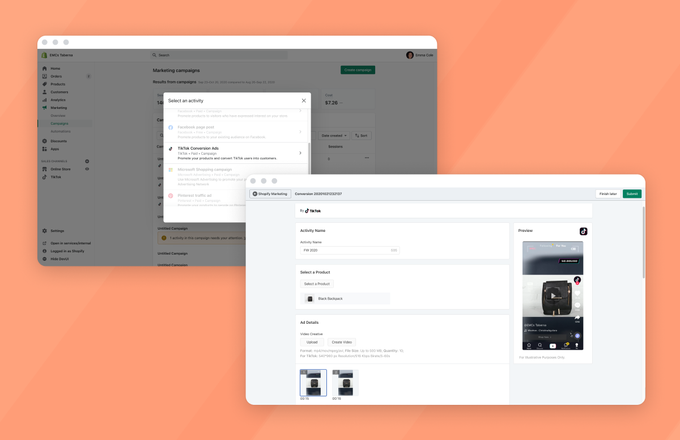 Shopify and TikTok will also collaborate to test new commerce features over the coming months that will further empower merchants to expand their paid and organic reach in video and on profiles.
"We're thrilled to be the first partner to welcome TikTok to the world of commerce, particularly right now, as our merchants prepare for a busy online holiday shopping season," said Satish Kanwar, VP of product at Shopify. "The TikTok channel means Shopify merchants—even those without a strong TikTok following of their own yet—can connect with these new audiences using content that feels authentic and genuine to the TikTok experience."
"We are delighted to partner with Shopify and provide a channel for their merchants to reach new audiences and drive sales on TikTok," said Blake Chandlee, VP, Global Business Solutions at TikTok. "As social commerce proliferates, retailers are recognising that TikTok's creative and highly engaged community sets it apart from other platforms. We're constantly exploring new and innovative ways to connect brands with our users, and Shopify is the perfect partner to help us grow and expand our commerce capabilities globally."
#ShopBlack
In addition, the two companies have partnered on their first co-branded Hashtag Challenge Plus campaign, #ShopBlack, to celebrate Black-owned businesses.
Running from November 10 to 15, TikTok users can spotlight their favorite Black-owned businesses using the hashtag #ShopBlack. The campaign, which also features a custom branded effect, music and creator content, will highlight products from more than 40 Shopify merchants, giving TikTok users a resource to support Black-owned businesses.
To continue Shopify's support of Black merchants, and to help surface new Black-owned businesses to consumers, today Shopify is also launching the Black Business Directory. Shoppers can use the directory to discover and buy from Black Shopify merchants.
TikTok says the TikTok channel is currently available in the US. It will roll out to other markets next year, including elsewhere in North America, Europe and Southeast Asia.