Facebook has announced the launch of Shops – its biggest move into e-commerce yet. The new commerce feature will allow businesses to set up online shops on both Facebook and Instagram for free.
The news was announced during a Facebook Live session with Mark Zuckerberg, who said: "If you can't physically open your store or restaurant, you can still take orders online and ship them to people."
The Facebook Shops feature will allow businesses to upload their catalog, choose the products they want to feature, and customise it with a cover image and colour.
Shops can be discovered on businesses' Facebook pages and Instagram profiles, and they can also appear in stories or be promoted in ads. The Shops will be powered by third-party services, including Shopify, Channel Advisor and BigCommerce to help grow their shops and manage their ads. Businesses will be able to buy ads for their Shop, and when users use Facebook's checkout option, it will charge them a "small fee."
Businesses will also be able to sell products through Instagram Direct, WhatsApp, and Messenger, and tag products during live broadcasts.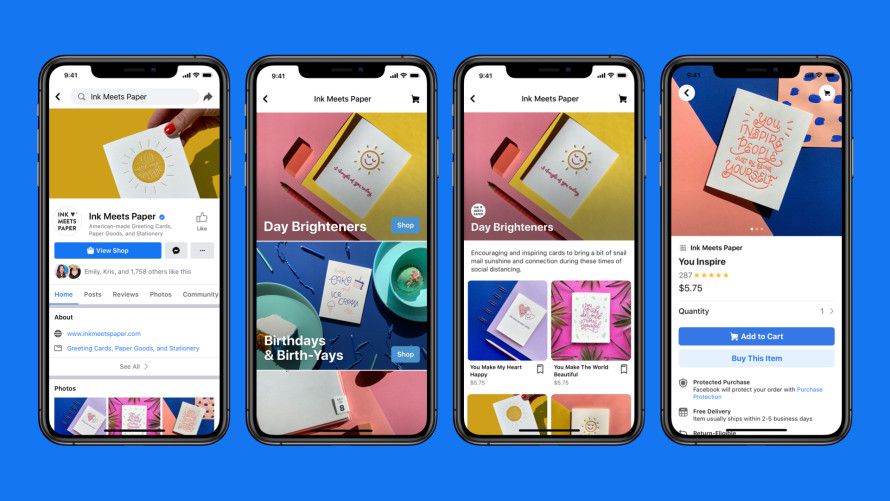 The feature comes at a time when there are currently more than 160 million small businesses using the company's apps. Zuckerberg said this feature will also remain useful after the pandemic.
There are plans to add features across the apps, like live shopping features and loyalty programmes to help people discover and shop the things they love.
Instagram Shops
Later in the year, starting in the US, they plan on rolling out Instagram Shop, where users can browse products via Instagram Explore and eventually shop from the app's main navigation bar. Users can browse selections from brands and creators, filter by categories, and purchase the looks you like all in one place.